As I was saying in the last post I went to an art show last Saturday. It was in the heart of hipster-metropolis (hiptropolis? hipsterolpolis?) in Queen West at the Gladstone Hotel. The show is called Come Up To My Room or CUTMR where the hotel gives over a few rooms to artists and allows them to use the space as they wish. This is the 8th year the Gladstone has done this but it was the first I had heard of it. It coincides with the big Toronto Interior Design Show which could be one of the reasons why it is so popular.
It was the first year I had gone (or even heard of it) and I was expecting this to be a creative interior design show as they call it the "alternative design event"; showing an interesting use of form to fill a space. But this turned out to be an instillation piece art show. Where in an artist took over a space and filled it with whatever they wanted, however they wanted, not taking in any account of functionality (for the most part). I was disappointed that this wasn't a conceptual interior design show but some of the instillation were interesting.
Please forgive some of the images that follow. The place was ridiculously packed with hipsters that we all know and love. Yes that was sarcasm. If I see another pair of horn-rimmed glasses it will be too soon. These are in the order of how I saw them.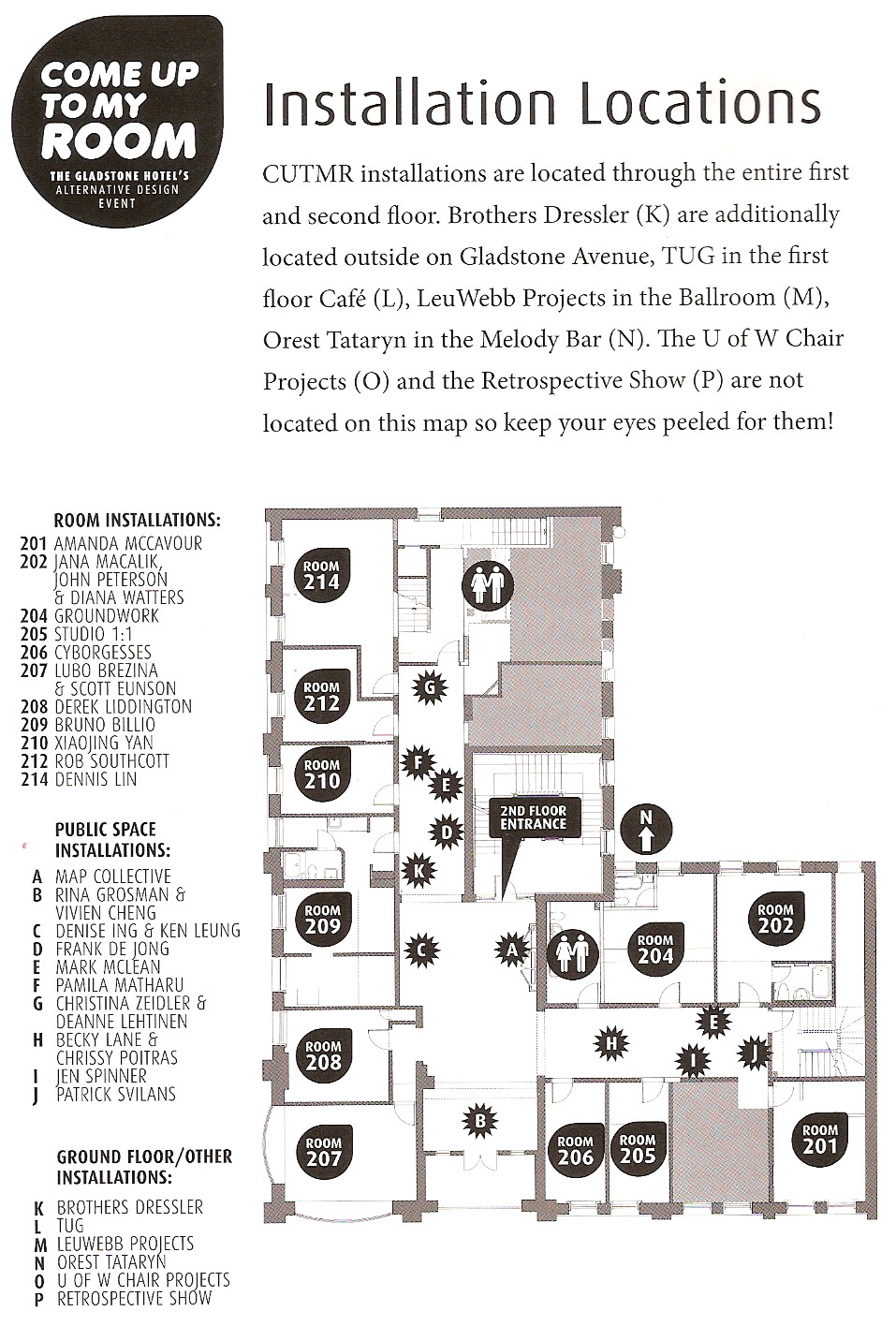 D – Mark McLean
This was a wall mounted piece in the hall. It was made of hundreds, more likely thousands, of plastic pull tags (I think that is what they are called) attached to what looked like metal fan covers. It was 3-dimensional, interactive and kinda cool. I wouldn't mind having that on my wall.
Along the way to the first room there were two other pieces on the walls. One was a deep framed shadow box filled with little plastic army men painted in either white or blue. The ones in blue made a hand showing the peace sign. The second was a moose made up of all kinds of Canada stickers with a yellow background framed with a black renaissance-like frame. It was kind of cool. All the pieces were by Mark McLean and part of his "Dollar Store Triptych".
Room 214 – Dennis Lin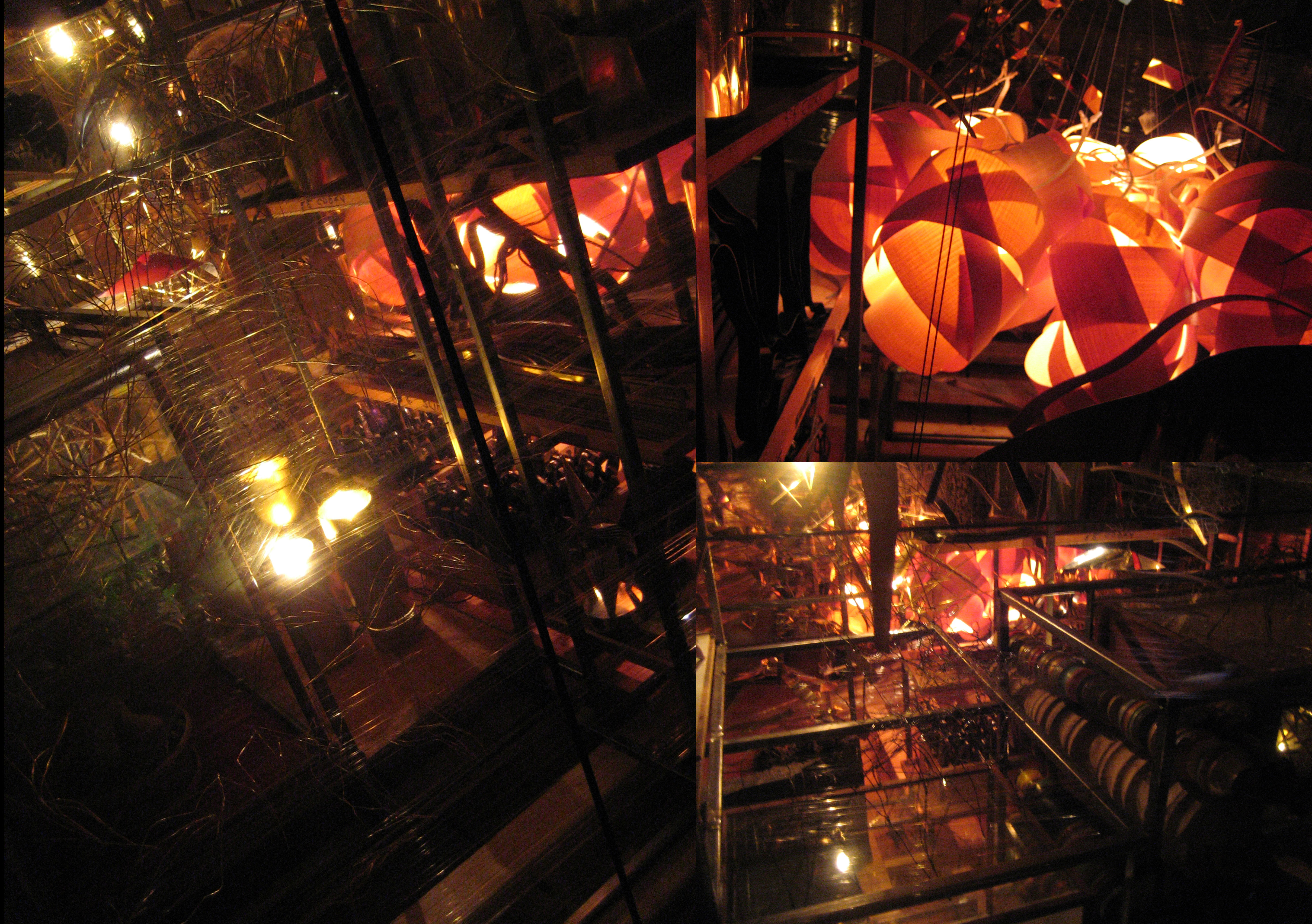 This was a dimly lit room and in the center was the massive metal framed box wrapped in what looked like saran wrap that was filled with all kinds of interesting objects and (seemingly) random shapes. It was interesting to look at but upon reading the description of what it was about it actually detracted from what was in front of you because it seemed so…full of it.
Room 212 – Rob Southcott
This room's instillation stuck to the walls, literally. It was an empty room where the walls on one side were strewn with these wooden butterfly shaped objects and the other side had paper planes sticking out of the walls. The paper planes were actually made of metal. It was kinda fun to look at but it evoked very little else.
Room 210 – Xiaojing Yan
This one was really interesting to me. These discs with faces on them suspended in the room from the ceiling brightly lit and the artist herself standing amongst them (the lady in the middle picture). The faces were hand painted silk attached to PVC. The light streaming through them made them seem like glowing apparitions. The people in the images were people the artist had met and knows who influenced or affected her in some way.
Room 209 -Bruno Billio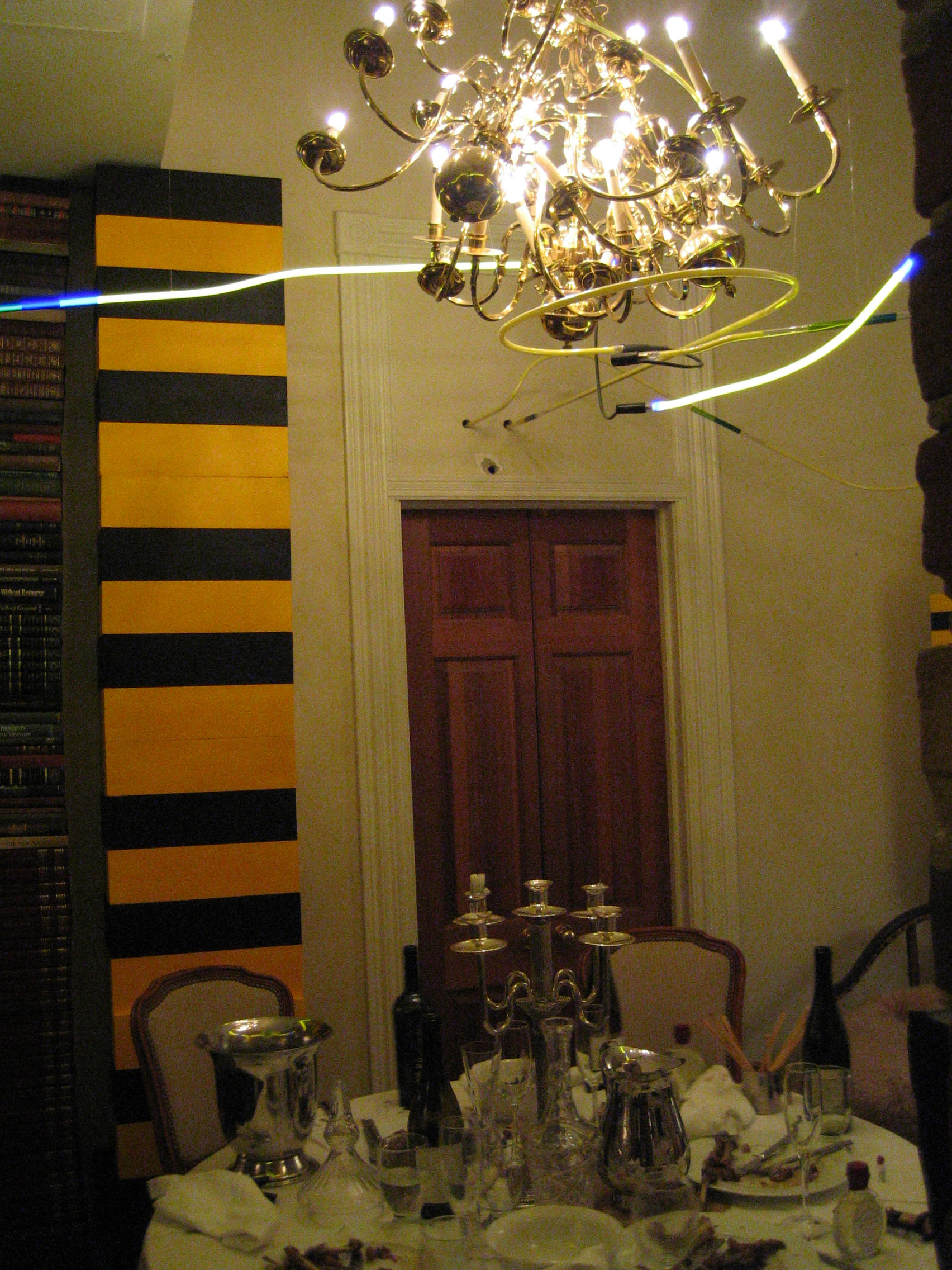 So…this was apparently a showcase of what is left after an uproarious party. There were broken plates, empty wine bottles, and general disarray in the room. It was meant for you to think of your own story answering the question, "what happened here?". It was fun and a lot less serious than most of the other instillations.
Room 208 – Derek Liddington
I couldn't get a picture in here because of how the room was situated and the constant stream of people moving in and out. It was a bright white room with 4 white frames creating a sloppy box in the middle. I wasn't sure what this was supposed to be but it was drunkenly explained to me by another patron that the frames were periodically rearranged by people dressed like Andy Warhol that was supposed to explore the use of space. Uh huh. I waited a bit, got bored and left.
Room 207 – Lubo Brezina and Scott Eunson
This piece is called "The Shrine". It is a dimly lit wooden structure representing the "loss of farm land due to the suburban sprawl north of Toronto". It is made from wood taken from fallen barns and trees. I didn't get too far into the room because this seemed like another very popular display. There was a bench inside that people sat on and "reflected" on what was around them. People whispered in there for some reason making it strangely quiet compared to the rest of the exhibition. I will say, it cast beautiful shadows.
B – Rina Grosman and Vivien Cheng
This "cocoon like organism" covered a large alcove. People stood amongst it and pointed at it. I think it was made of papier mache.
Room 206 – Cyborgesses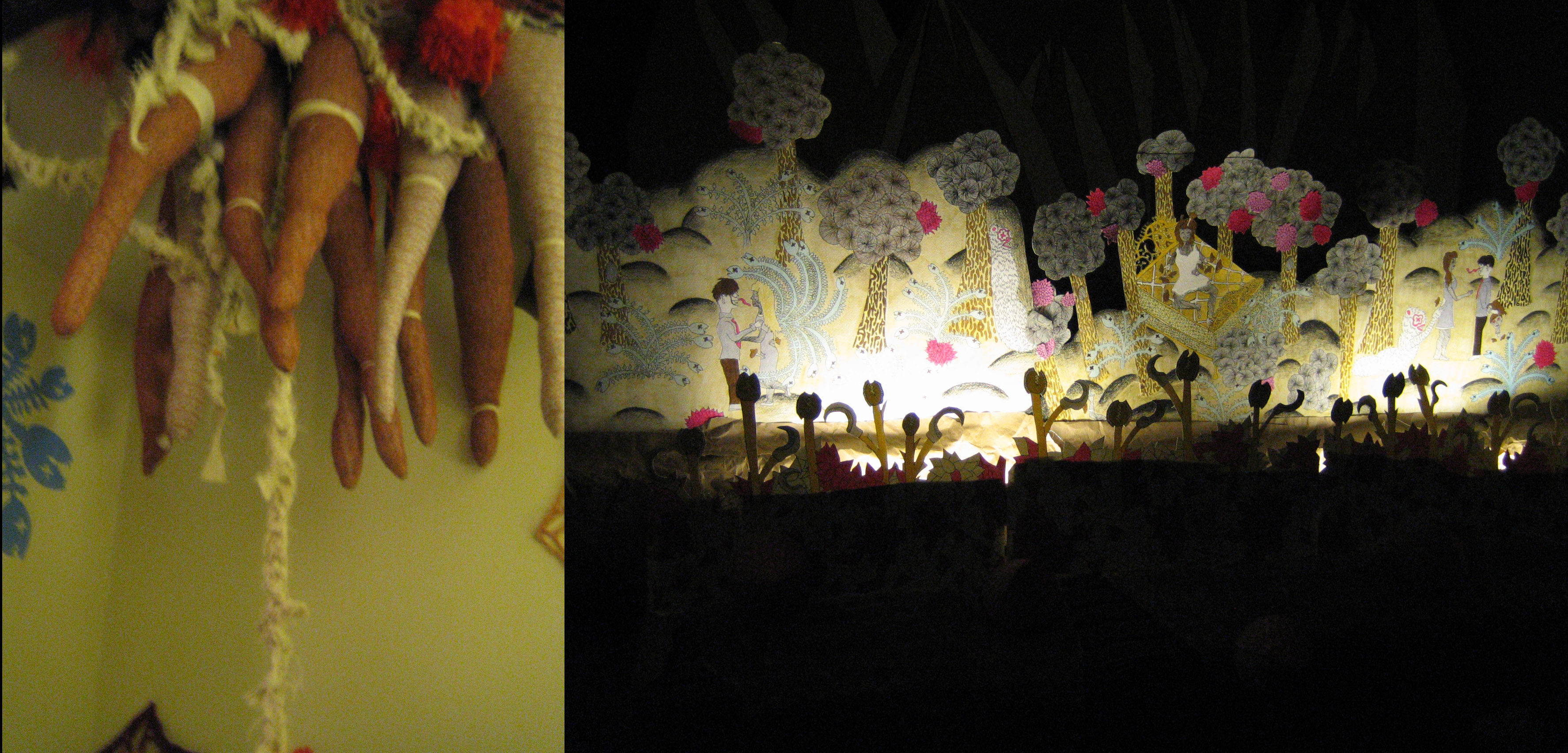 This room confused me. The walls were covered with crocheted webs and strange shapes that looked like stalactites hanging in a cave. In there center of the room was this little diorama. It was interesting to see but it left me perplexed. What do you expect from people who call themselves "a slightly disturbed duo"?
Room 205 – Studio 1:1
I didn't manage to make it in this room. It was pitch black, with a curtain across the door and packed with people. When the curtain moved you could see a twinkling from the ceiling that was pretty. I think I missed something special by not going in there.
I – Jen Spinner
These were fascinating to look at. They are reconstructions of classic metal fire escapes using small strips of black paper. They were incredibly intricate and complex. I could only thing, this must have taken forever.
Room 201 – Amanda McCavour
This is the closest to interior design I saw at this show. It was a complete room with a sofa, side table, arm chair, picture hanging from the wall, suspended from the ceiling all made of…wait for it…string. These were not miniatures these were life size. It was amazing. The artist creates, what she calls, "thread drawings". To create them she uses a sewing machine, fabric that dissolves into water, and a heck of a lot of thread.
J – Patrick Svilans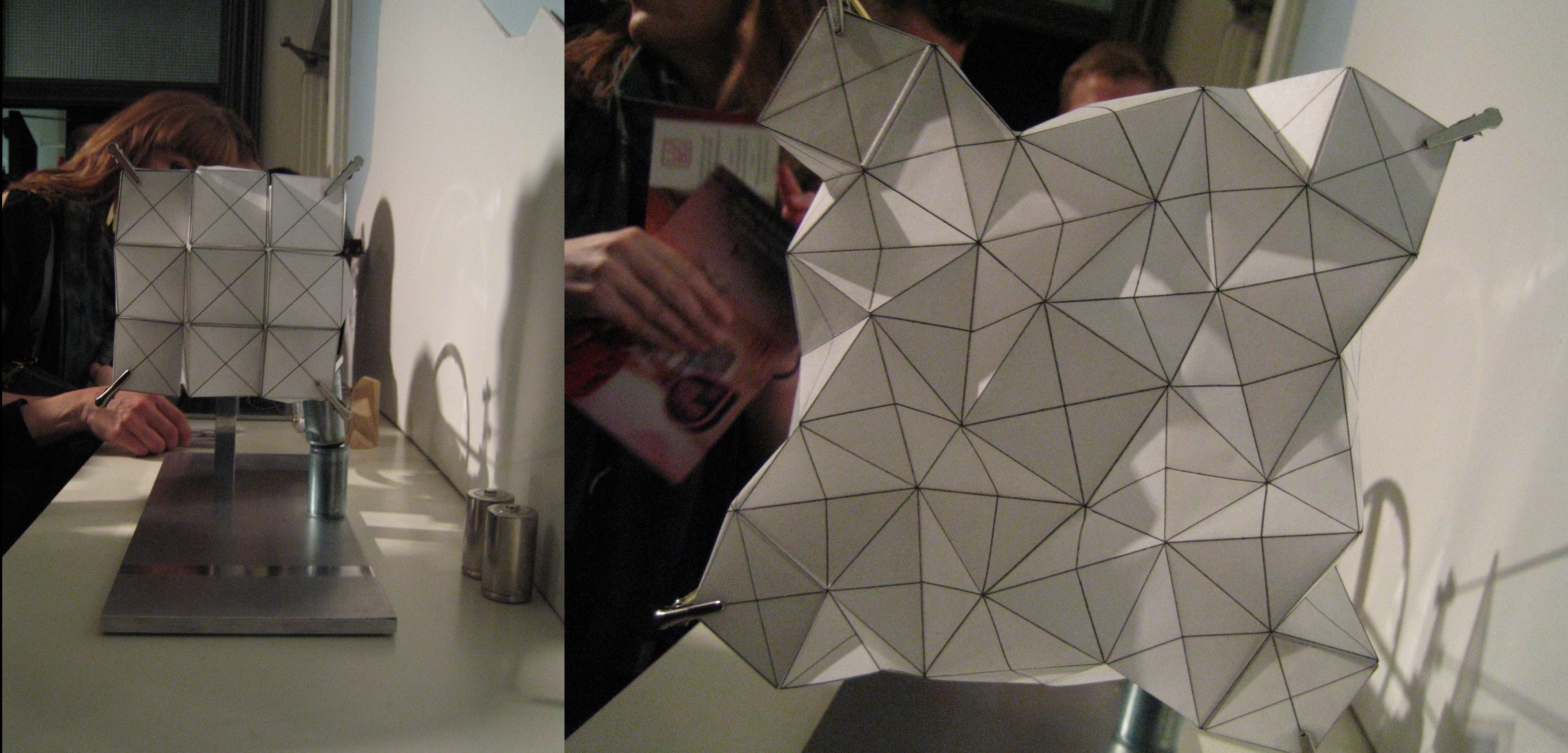 I am not sure how to describe this, I really should have taken a video since it is a moving instillation. When a crank was turned what looked like 9 separate boxes on the left unraveled into one sheet. I also should have gotten a picture of the mechanism but again there was a people-in-the-way problem.
Room 202 – Jana Macalik, John Peterson, and Diana Watters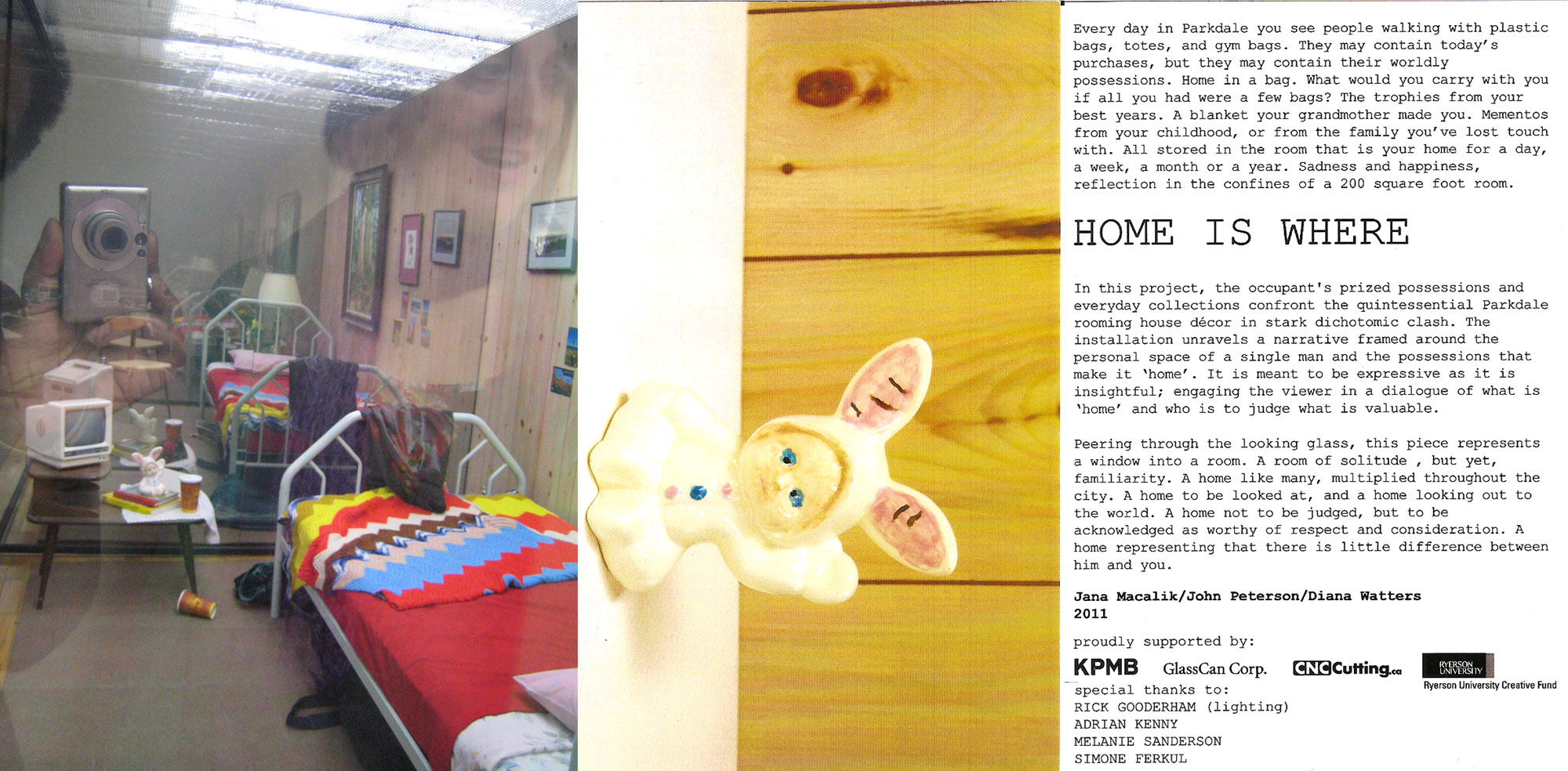 This was a room in a box in the room. Outside the box was dim but inside was brightly lit so you could see all the elements trapped in this static state on the inside of the one was glass. It was interesting looking at the state of the room and the retro-ness of it and trying to figure out whose room this could possibly be. Then I read the postcard I was given upon entering the space (the 2 images on the right) and I understood. It made me a bit sad.
Room 204 – Groundwork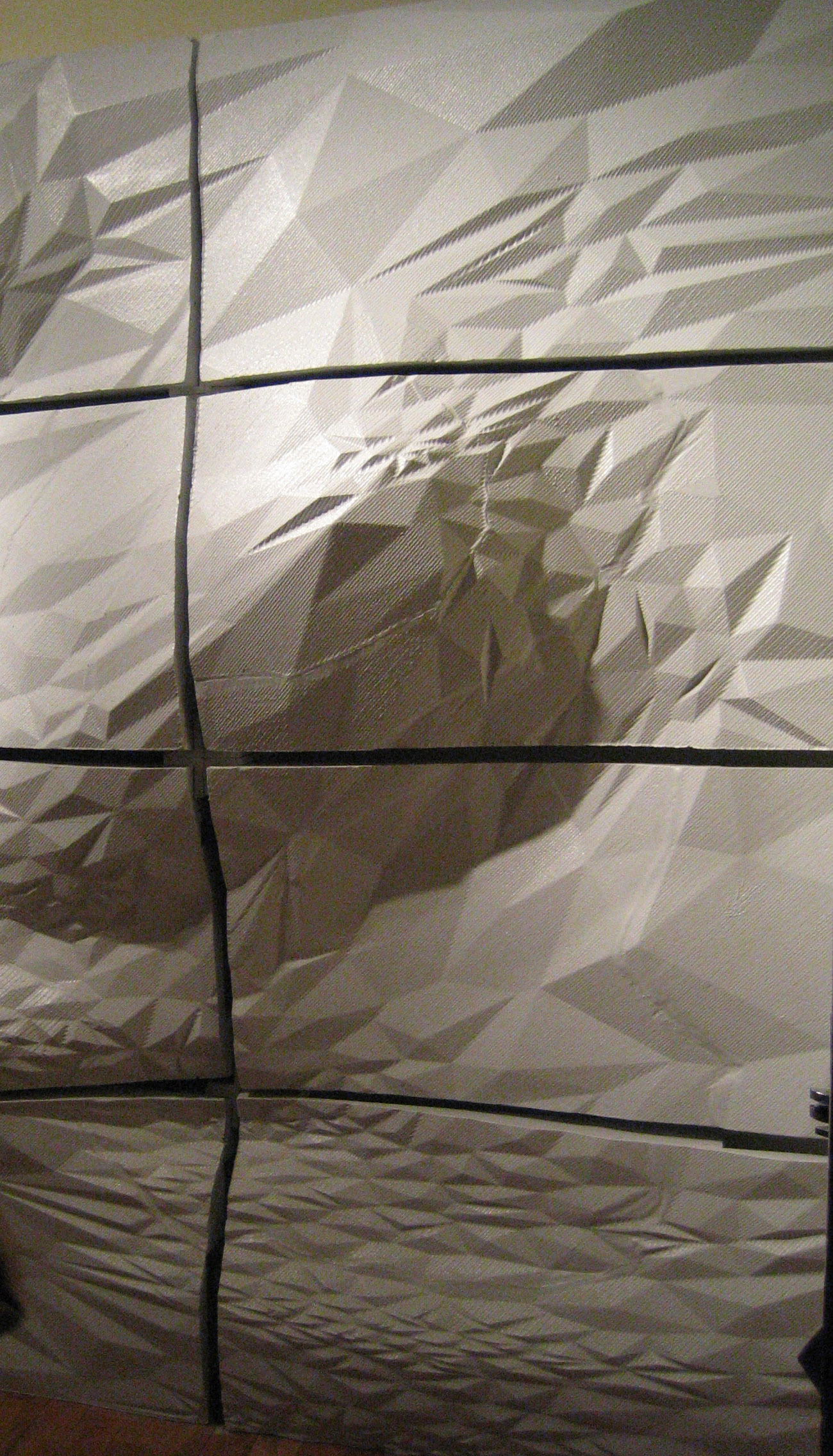 This was something that took up one whole wall of the room. It was digitization made real, like a CG landscape circa 1985. It was interesting at first glance but surprisingly blah overall.
Room 208 – Derek Liddington
After going to all the rooms I thought I would check back and see what was going on in here. Nothing had changed.
M – LeuWebb Projects
This was in the ballroom on the first floor of the Gladstone. This was where they were having their 8th Love Design Party. The ceiling was covered in orbs of different sizes that looked like balloons and each had a light that pulsated to the base heavy music they had pumping. It created an interesting atmosphere. I was thinking about staying for the party but it wasn't scheduled to start for another hour and there was just no place to wait that wasn't overcrowded. So, you know, I went bowling.
It was a good night so I guess overall it was kind of cool.
Tra