I don't know where to start this exactly cuz I have been keeping myself quite busy the last little while hence the lack of posting. Actually that means I should be posting more because I would have more things to write about, right?
I partook in the annual art-fest known as Nuit Blanche on Oct 1. Every year is seem to get more and more frustrated by what they consider to be "art". Art is that thing that is hard to describe but you kind of know it when you see it but explaining it can be a hassle. That thing that is subjective, expressive, encompassing, bewildering, illuminating and disturbing. It can be everything, it can be nothing and it could be the presence or absence of anything. It is a peculiar thing this "art" and I get that but when you go out and all you can think to yourself is "huh?" or "what the…?" and you have to read a billboard and/or a couple or paragraphs, and still have someone explain it to you then I think there is a problem. I think (don't kill me for my opinion) that art should evoke something. It should make you hate it, like it, get your mind rolling, or just make you talk about it, but everything I saw I was very shruggy (i know it is not a real word but you know what i mean) about. I can't even call it "meh", I just shrugged and forgot about it. I do remember a few things: there was a dude on a zipline, some guy playing drums in a car, there was a cheerleader telling people to "be efficient", something with umbrellas, and this area with spotlights and lots of noise called "Soon". There was also one exhibit I actually partook in called "The Free Shop". It was this guy, Basil, who was in a bus stop that he set up with shelves like a little shop and you lined up and he gave you whatever you picked. It was all his stuff that he was giving away. It was considered to be performance art that exposed our attachment to material things. I got a sake jar and a plastic green goblet, it is all very exciting. There was supposed to be a site set up with pictures and stuff but it doesn't seem to exist yet.
I went to the movies some time after that, not the same night, not the same week i don't think, possibly the weekend after, and I was forced to watch What's your Number?
I am not going into detail about this movie but basically it is about this girl who reads something in a magazine that if you sleep with 20 guys you will never find your true love. LAME! The premise is ridiculous, the situations are dumb, and the 5 minutes into the movie you knew just how it was going to end. The thing is I like Anna Faris, she's a funny lady but she keeps staring in these horrible movies. And what did she do to herself? She looks weird. Even though Chris Evans is shirtless quite a bit it was no where enough to make this worth watching.
Sometime after that I was off to Trinidad! I haven't been back in two years and it was just good to get away. I went for my cousin's wedding and it was great. I was up and down the island seeing family, enjoying the weather, and just having a good time. The wedding was wonderful. The ceremony was a small intimate affair with a select group of guests. The reception was open to extended family and friends and was a fun filled happy event. My cousin picked the colours pink, orange and green that could easily have gone wrong but they were put together in a very classy, very Caribbean, way. I flat out had a good time. I got some well deserved R&R, partied a bit, and made it to the beach. What else could I have asked for? Possibly more time.
I got back in town just in time to miss the Zombie Walk but not Halloween. All year I had wanted to make a bubble wrap jumpsuit and be what I called "a minion of Zoltan" or I guess follower of Zoltan from Dude Where's My Car?. Really I just wanted a bubble wrap jumpsuit. But being me, aka a procrastinator, I ran out of time, so that was nixed. I still managed to try harder than I did last year and went out as a rocker chick. I braided my hair into a Mohawk, wore a short navy blue skirt, black tights (it was cold), a purple tank, black pin stripped vest, silver and black necklace, with leopard print platform kicks. My makup was crazy with one eye blue, one eye green, eyeliner streaked down my face to silver tears. It was awesome. Me and a few friends headed to this new club called Cake. That place was great! $5 cover, $4 drinks, fun crowd, awesome DJ. We just had a blast and danced til the lights came on.
After recooperating from that night (it took a while) I didn't do anything exciting. I ate some food with people, went to work, slept, went to Ikea, nothing big nothing fancy. On Friday though I headed out to the movies again (finally! 3 weeks without it!) and saw A Very Harold and Kumar 3D Christmas.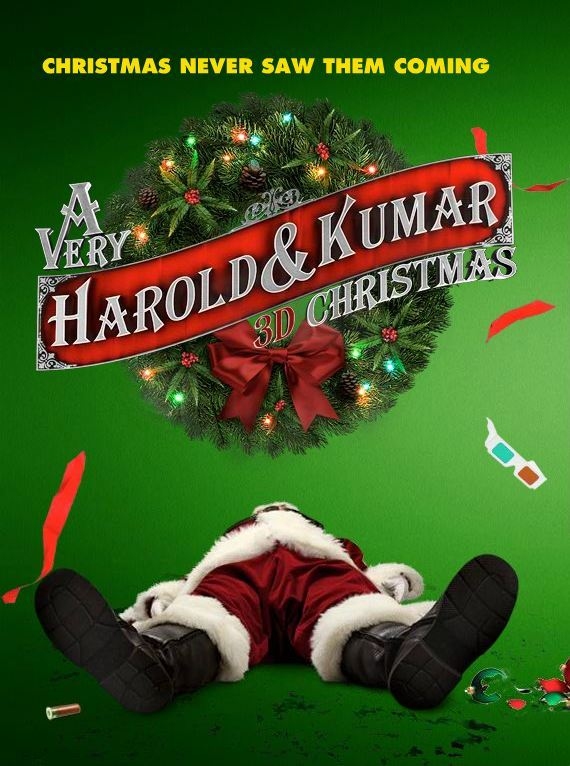 I thoroughly enjoy Harold and Kumar Go to White Castle. It is filled with slapstick, stereotypes,  and randomness that just somehow fit together. I thought Harold and Kumar Escape from Guantanamo Bay was amusing. It had it's antics and a few good laughs. But this one they tried so hard but it was nowhere as funny as it should have been. There were a couple of funny parts (it was all NPH) and a few parts that deserved a good chuckle but it just seemed to fall flat. They seemed to cross the line from ridiculous to foolish where it is no longer funny just tedious. And it was all in glorious 3D. They utilized that third dimension as much as possible and I applaud them for trying to justify me spending that extra $3 but because the overall product is so lacking I can't say it was worth it. Some people will enjoy it but I was not impressed.
On Monday I went and checked out Cream Of Comedy at the Second City. It was a really good show. All 5 acts had very different styles and content making the whole event enjoyable. Even though they were all good the host was the best. He was just killing it. I think I may have preferred if it was just him, cuz that is when I really started to laugh. But I can't complain.
So that is about it up until now. I wanna get out and see Immortals. It looks all shiny and actiony. We will see what other troubles I manage to get myself into.
Tra