Some time before the Holidays as I sat in my very quiet apartment I was restless and needed something new to occupy my mind. I had been using music to fill the dead air but even though I have a large collection it quickly became repetitive and boring. I had heard all those songs a hundred times before so I decided to do something I hadn't done in a while, get some new music.
Now when i get new music I sometimes download some stuff that people have recommended, this is usually because i am unsure of if I would like this new material or I am only so-so interested in it. But because this was me actively making a decision to find new music I would enjoy I went to the "record shop" and purchased a few CDs.
Don't judge me (even though I know you will) but the first album I bought was LMFAO's "Sorry for Party Rocking". The only reason why I bought this first was as soon as I walked into the store there it was and their "Party Rock Anthem" just made its way into my head and I was sold. I knew exactly what I was getting into when i picked it up as I loved their first album "Party Rock" which is still on heavy rotation on my play list. I was not disappointed.
Like their previous album it is loaded with infectious beats and entertaining lyrics that had me dancing and having a good time. It is just a fun album to listen to that puts me a in great mood.
I (and you) may have heard this a thousand time but I can't get enough of "Sexy and I know it." I have to include this video cuz it just adds to the awesomeness of the song.
And the crazy "Take it to the Hole" that you can't help but move to.
Audio clip: Adobe Flash Player (version 9 or above) is required to play this audio clip. Download the latest version here. You also need to have JavaScript enabled in your browser.
I just love how fun and full of energy this album is. It allows you to let everything just melt away and just dance. Sometimes you need that.
Next was "Ray Guns are not just the Future" by The Bird and the Bee. I had never heard of this group until I listened to one of my favourite play lists on 8Tracks. Their tune "Polite Dance Song" is salacious but sweet and something about that juxtaposition made me fall in love with it immediately. Without hearing any other song off the album I headed back to the store to pick this up.
The album is very mod. It is heavily 60's influenced with a modern twist. Inara George's voice is soft and whimsical transporting you to some hippie wonderland of flowers and lava lamps. This gave me the impression that they were a British band but they are actually from the States and that kind of blew my mind. It is a great album that is innocently lyricized with sexy undertones.
Audio clip: Adobe Flash Player (version 9 or above) is required to play this audio clip. Download the latest version here. You also need to have JavaScript enabled in your browser.
Audio clip: Adobe Flash Player (version 9 or above) is required to play this audio clip. Download the latest version here. You also need to have JavaScript enabled in your browser.
Audio clip: Adobe Flash Player (version 9 or above) is required to play this audio clip. Download the latest version here. You also need to have JavaScript enabled in your browser.
I had known about Florence and the Machine for a long time but had never really heard anything by them. But on the same 8Track playlist I was properly introduced to them with the song "Howl". That raw, powerful, almost animalistic song drew me in and I knew I had to have their album "Lungs".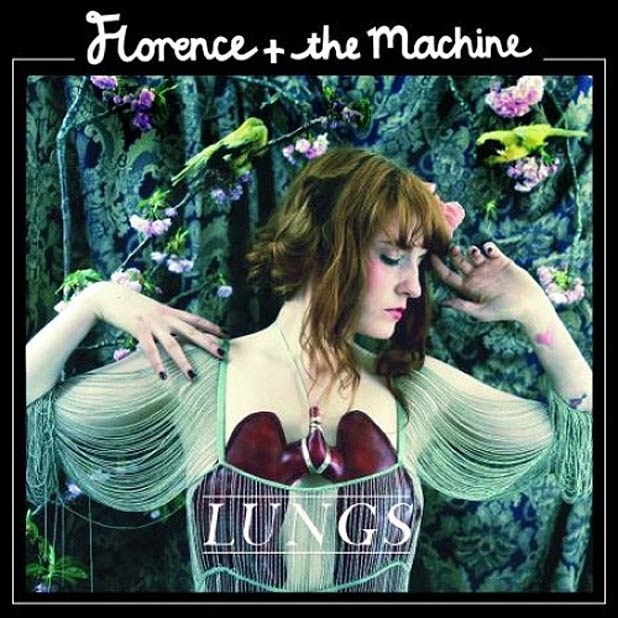 Listening to the album I realized I had actually heard other songs on it like "Rabbit Heart" and "Kiss With a Fist". Both very different but equally intense. The whole album is filled with passionate songs of love, sex, hate and violence. Florence Welch's compelling and forceful voice is captivating making you want to sing with her and scream at the top of your lungs at the same time. The drumming, fast, constant, and purposeful, only intensifies this feeling.
Audio clip: Adobe Flash Player (version 9 or above) is required to play this audio clip. Download the latest version here. You also need to have JavaScript enabled in your browser.
Audio clip: Adobe Flash Player (version 9 or above) is required to play this audio clip. Download the latest version here. You also need to have JavaScript enabled in your browser.
Audio clip: Adobe Flash Player (version 9 or above) is required to play this audio clip. Download the latest version here. You also need to have JavaScript enabled in your browser.
Unlike the other three albums I listened to "Camp" by Childish Gambino in it's entirety before I bought it. It was streaming on NPR and I was lucky it was one of those days where I had few interruptions while at work. I put on my headphones as I did my work, listening to an angry man let out his frustrations.
If you don't know, Childish Gambino is Donald Glover aka Troy from "Community". Knowing that puts a very specific image in your head. Even though Troy is just a character it is hard to distinguish the man from his role when that is the only way most people know him. So I was floored when I first hear the album.
I listened to the album twice that day from beginning to end. The first time I was so astonished by what I had heard that I didn't really absorb it. The second time around I had to pay attention and listen to what he was saying. "Camp" is loud, it is angry, and it is vulgar. The truth in the songs is what makes those 3 aspects work and not ruin the overall sound. I will say there are a few too many f-bombs and randomly placed "N" words but his clever word use – "She's an over achiever all she do is succeed" (think about it) – his pop culture references – "Cuz i'm a beast, bitch, Grr Invader Zim" – are fun and entertaining, and his beats are great. He mixes things up by using synthesizers and being very dance-y but still using classical instruments like piano's and violins. Because of this you don't get tired of the sound.
Also at the end of the album he switches it up. As the last song closes instruments are stripped away and all you are left with is a beat and he comes in and tells a story. A short, sweet story void of cussing, sex, and anger filled with innocence. As he talks you can't help but smile because at some point something he says creates this vivid picture in your head and you understand where he is coming from. The beat picks up but that is where the story goes down hill. It is a sad ending but he explains himself making the overall tale bittersweet. It is a great ending to the album.
Audio clip: Adobe Flash Player (version 9 or above) is required to play this audio clip. Download the latest version here. You also need to have JavaScript enabled in your browser.
Audio clip: Adobe Flash Player (version 9 or above) is required to play this audio clip. Download the latest version here. You also need to have JavaScript enabled in your browser.
Audio clip: Adobe Flash Player (version 9 or above) is required to play this audio clip. Download the latest version here. You also need to have JavaScript enabled in your browser.
Audio clip: Adobe Flash Player (version 9 or above) is required to play this audio clip. Download the latest version here. You also need to have JavaScript enabled in your browser.
So that is my new music. I have to say I am very happy with my choices and this stuff will be on heavy rotation for a long time.
Tra