In celebration of Toronto's 175th birthday I have decided to share some facts about this city. It's a great place and I spend a lot of time there. I am saying this like I live far away. I am like 20 minutes (on a good day) from the downtown core.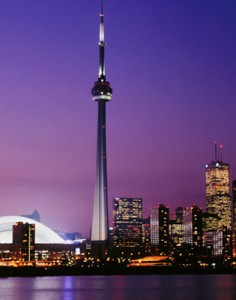 Toronto officially became a city on March 6 1834. It was originally a French trading post. Then it was founded as York by the British in 1793 until it was renamed in 1834.
Toronto is the currently the largest city in Canada with approximately 1 in 6 Canadians living there.
Toronto's City hall was blown up in the final scenes of Resident Evil: Apocalypse. It really wasn't worth it.
Toronto held the record for tallest free standing structure for over 30 years with the CN Tower standing at 553.33 meters tall (1815.4 feet). The tower was built in 1976 and held the record until September 12 2007 when the incomplete Burj Dubai surpassed it.
In the heart of downtown Toronto you can find the Eaton Centre. It is a shopping center that spans 2 full city blocks. The building was first conceived in the 1960s. The building opened in 2 stages, in 1977 the northern part was opened to the public and the southern didn't open until 1979. It has been a staple of Toronto shopping since then.
In the Eaton Centre there is a sculpture by Canadian artist Michael Snow. It is called "Flight Stop" and is made up of a flock of fiber glass Canadian geese suspended from the glass roof of the mall.
Toronto is also home to the Rogers Centre which used to be called the Sky Dome (I liked that name better). The stadium is known around the world because it was the first stadium to have a fully retractable roof. It also has sculpture by Michael Snow that is in 2 parts called "The Audience".
And I think that is it. I should also mention that the AGO and ROM are both newly renovated and beautiful. They should be checked out.

Tra