Project Runway Canada's final episode of season 2 aired Tuesday night. I have to say I wasn't surprised at the out come of it. If you haven't watched it yet you can guess who the winner was. If you want to fain surprise then don't read this cuz I am going to give it all away.
So the show was actually a continuation for the week before. The challenge was to create a collection of 12 looks and a 13th look for entertainment tonight Canada host Cheryl Hickey to show at Toronto Fashion Week. Then they were told they would have to do a presentation for Winners. They would have to present their brand, know there market, and their price point. But I am not going to talk about this last part because it only lasted about 5 minutes and it was just a bunch of nodding going on by some Winners executives.
So let's talk about fashion. Evan Bidell, the winner from last season, greeted the finalists at the tent. He gave them some words of encouragements and sent them on their way. He also designed Iman's dress for the evening. I thought it was a great dress but I don't think it was such a great dress for Iman. It made her ass look huge. I didn't think it did much for her at all. But the dress is classic Bidell and I can't fault him for that.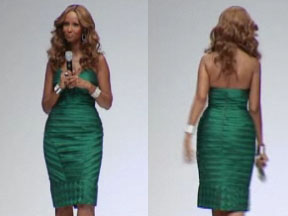 The first up was Sunny. His was really the only show I was excited to see. And he did not disappoint. His inspiration was Alexander the Great. And his show did embody that kind of feel. With the fabrics he used, mostly leather and fur, and his pieces, structured and highly tailored garments. They were simply fantastic…wow.

He also paid close attention to detail. May of the outfit had intricate bead work the accentuated the garment and he even created his own hat to finish of the look. His whole collection was inventive, interesting, and textured.
Next up was Jason. My question is how did he make it to the final? Luck of the draw. Adejoke should have been in his spot if it wasn't for that paired challenge. Yes there is a small amount of talent there but it is being squandered on him. He has this incessant need to pick bad materials and add unnecessary details that make what could have been a great outfit look stupid. And that was what his whole show was. His inspiration was global glamour. Whatever. I didn't mind his colour palette which was black and gold but most of his pieces looked the same but with different add-ons that were distracting. He was the only one who got a bad review from the judges and he deserved it.

Last up was Jessica. Ah, Jessica. What are we to do with you? Her collection was inspired by 1930's glam meets hip hop swagger. I think that is a good combo. She has good ideas but she didn't pull it off fully. There were a few pieces in her collection that got it right. They were well tailored and had a proper blend of the 2 styles. But then some of those dresses were so wrong. They looked like the stuff you get off the rack at Sirens or Stitches. They were just so hoochie looking. She has the ability but she doesn't know how to contain her hooch mentality. She has to bring out the class a bit more.

The Cheryl Hickey dresses were a total disappointment. They looked like after thoughts, which they were. After months of work, thinking through their idea, and coming up with something cohesive they were asked to add something on. And it was clear that is what it was. They were all very simple dresses that didn't flatter he figure at all and she almost looked embarrassed to wear them.
So at the end of it all Sunny Fong won. Who's surprised? No one. Since the beginning of the season there was barely any doubt that he would win. No not all his outfits through out the season were the best but he was the only one who consistently had ideas that he was able to follow through with. The man is creative and has the skills to back it up and it was proven by him winning 4 challenges and taking home the grand prize. He deserves to win and I hope that he does well.
Note – If you want to check out the final show you can check out the video here.

Tra