What is it about birthdays that make me kind of panic?
They are just like every other day. Wake up, go to work, come home, eat dinner got to sleep. But today is my birthday and that somehow makes it different.
This is what the view looked like last night.

And this is what it looked like this morning.
Not much difference. It is still blue with fewer clouds; nothing exciting.
I woke up (a good way to start any day), took a shower, and got dressed. That sounds the same as any other day however today I fussed about my hair, which I don't think I got right, I HAD to wear a new shirt I had been holding on to, and I HAD to wear a new pair of shoes. I somehow have to be different, better, than usual.
Leading up to today I have been thinking about my life and what to do with it. Hemming and hawing over decisions that were made years ago and wondering where would I be if I had done something else. Who would my friends be, where would I be living, would I be the same person? It's weird…
Also the closer I got to work the more panicked I got. I tensed as I thought to myself, "What if someone knows?" I don't take direct compliments or attention well and the idea of it just freaks me out.
But I digress…This is supposed to be a post about my nails.
I missed posting last week's look so here you go.
Something a little simple but nice. Holding my TV remote. So many buttons. I remember the days when there were only 10 buttons on a remote, all the numbers and power. I used 3 polishes for this look.
Base coat – Essie "Grow Faster" Formula
Blue – Julep "Jennine"
Shimmer/top coat – Essie Luxeffects "Shine of the Times"
That, "I remember the days when…", line made me sound really old. My nail art however makes me seem totally cool and with it.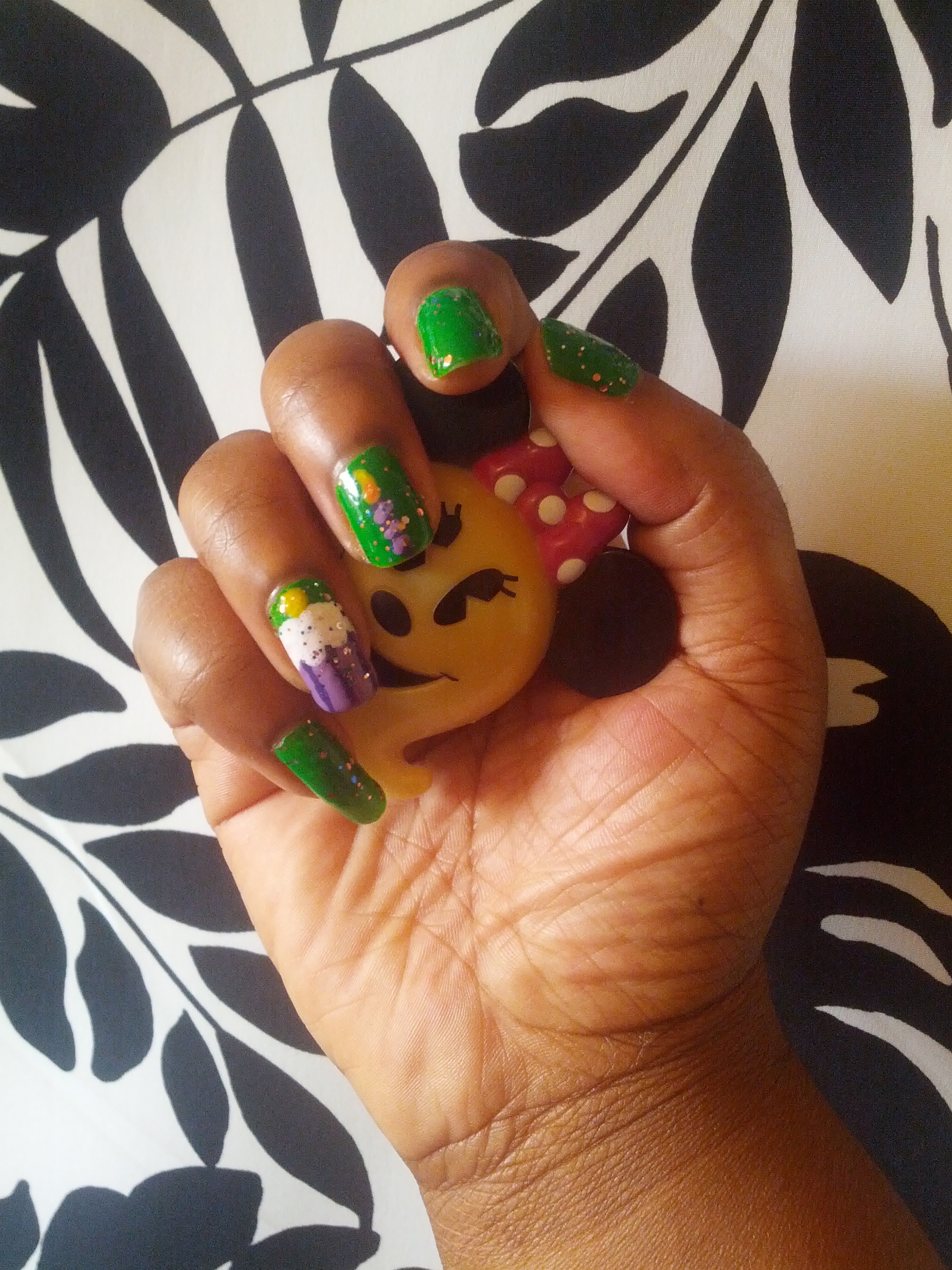 As you can see I did some Birthday Nails here. See the cupcake and the candle and confetti. I am holding a Mini Mouse light up broach that I got from Tokyo Disney in 2007. I was there with some friend commerating one of their birthdays. It was a good night. Also birthday related was that I left for Japan on my birthday that year and technically missed it. You would think it would be cool cuz I was going on an adventure on my birthday but I was travelling alone and tired and it was just kinda sad. I am such a downer today.
I used, wow, 9 polishes for this one, a small brush and a dotting tool.
Base coat – Essie "Grow Faster" Formula
Green – LA Girl Brites GNL469 "Kryptonite"
Lavender – Rimmel Lasting Finish Pro 370 "Wild Orchid"
Purple – L.A. Girl Disco Brites NL86 "Hustle"
White – L'Oreal Steel Colour 910 "Seeing Spots"
Yellow – LA Girl Disco Brites NL72 "Psychedelic"
Orange – NYC 112A (they don't have fun colour names)
Glitter – H&M "Confetti"
Top Coat – LA Girl NT1 Diamond Top Coat
I freshly did my toes as well to commemorate this momentous occasion. Technically…I did it twice. At first I did it free hand and it looked super sloppy but I still liked the overall look I was going for. So then without cleaning it I got out the polish again, some tape, and did it right.
Looks pretty good, right? No, I didn't take a picture of the 'before'. Or did I………? Nope.
I am sitting at the back of a mostly empty streetcar when I took this picture. If anyone was paying attention to me at the time they either thought I was crazy or I dropped my contact lens. No I don't know what that black chunk is, just know it is probably something gross.
I only used 4 polishes for this look.
Base coat – Essie "Grow Faster" Formula
Green – LA Girl Brites GNL469 "Kryptonite"
Orangey Pink – Disco Brites NL82 "Disco Inferno"
Top Coat – LA Girl NT1 Diamond Top Coat
Before you think I am having the worst day ever please know that today has actually been pretty great. I got gifts, calls, messages, and 2 cakes. Yes, that's right, 2 cakes. One ice cream and one chocolate truffle. I know some pretty awesome people.
Tra