Audio clip: Adobe Flash Player (version 9 or above) is required to play this audio clip. Download the latest version here. You also need to have JavaScript enabled in your browser.
While perusing some forgotten thoughts I realised that I have not posted reviews for quite a few movies. I started writing something that was just never completed or maybe I figured it was too late to say something about it. There were 17 unpublished posts all together. After looking through them I thought they were still worth writing about and maybe someone out there might be interested in what I had to say. I am going to split this into 2 posts so I can actually give a short but decent review. These are in order of release date.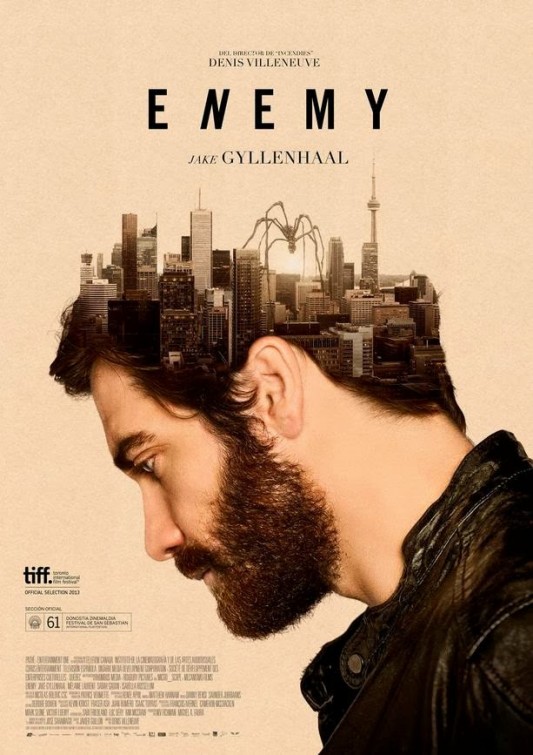 Before watching this movie I had heard very little about it. The little I did hear though, was all praise. Because it was in limited release when it came out I didn't see it in the theatre and sadly forgot about it.
One night while flipping through channels I came across a show ending that just kinda broke my brain for a moment. There was a key in an envelope and giant spider in a room. I understand it was completely out of context but still, it was so weird, abrupt, intriguing that it burned itself into my head. I had to watch the whole thing.
I don't really want to say too much about Enemy as that may ruin it for you. It is a dark, strange, thriller that dives into a person's mental state and how they perceive their reality and what they are willing to accept and ignore as real. It starts off a little odd, then is normal for a minute, and then dives into the surreal. The acting, directing, script, cinematography is superb. Throughout the movie the audience is made to feel a little tense, on edge, just as the main character. This is maintained not just by Jake Gyllenhaal's fantastic acting chops but also the mood created by focused views of the story environment. Much of the movie is quiet and subtle which is broken by sudden outbursts adding to the tension. The movie was also filmed and set in Toronto, also Mississauga, which is somewhat of a rarity. As I live in the city, I knew all the locations they were in and that added an extra layer to the film for me.
Enemy is definitely an underappreciated hidden gem. It is a deep, subversive film that deserves a bigger audience.
I hadn't heard of this movie until I came across it on Netflix one day. Being lazy and the fact that it was a Sam Rockwell movie made me stop and have a look at it.
Doug Varny (Sam Rockwell) is a Pharmasist in a small town. His boring uneventful life is shaken up when he begins an affair with a bored house wife (Olivia Wilde). Their sex filled, drug fuelled romance is wild and short lived.
This is really not a complex story but with any story it is how it is told not what it is about. They tried to make this different with a narrator but it is very linear and mediocre to say the least. It is not that it is bad really but there isn't much to praise about it. It is a light dramedy that has some funny parts, the characters grow but don't really change, and even though you are interested in what is happening, you could easily give up and not ponder on what the ending could be. As usual though Sam Rockwell is the saving grace in this. No matter what he is in, whether it be bad, good, or in between, he is always the best part. There is something about him and the characters he plays that just work.
Better Living Through Chemistry is fine. I won't recommend it but on a bored afternoon when you are looking for something light to watch, you can give this a try.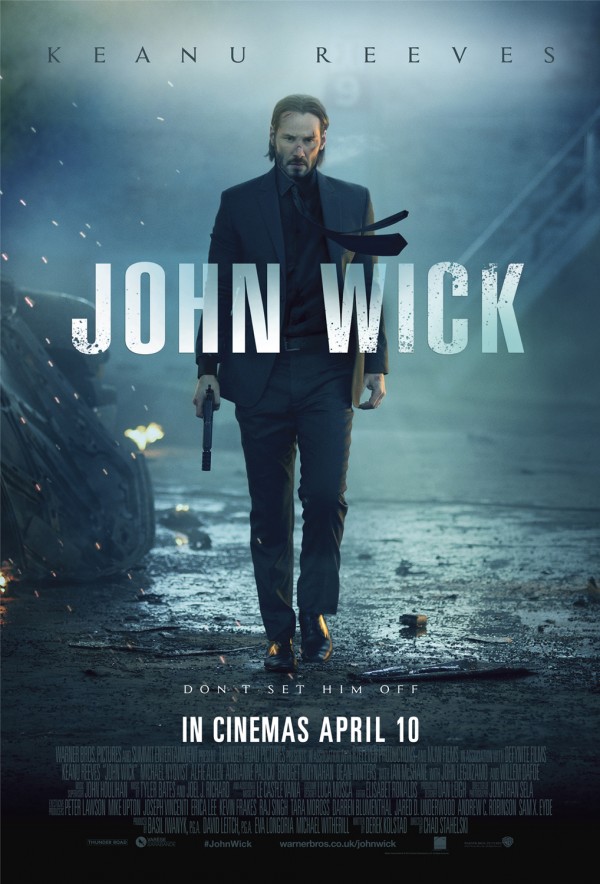 AKA the movie where Keanu Reeves goes around shooting people in the face because someone killed his dog.
It.
Is.
AMAZING!
As a flat out action flick it is so well done. Its very sleek and stylised with great fight scenes and gun battles. There is as little explaining as possible, they do a great job in showing what is happening, and what is there is just enough to understand what is going on, motivations, and consequences. That is all you need. Then there are explosions, car chases, stunts, fights. So good!
The cast was pretty great. It included some well known names like Willem Defoe, John Leguizamo, and Ian McShane. And some well known faces Dean Winters (Who always plays the jerk, is currently doing that in HBO's Divorce), Adrianne Palicki (Most recently she was in Agents of Shield), Lance Reddick (best known for his roles in the Wire and Fringe), and Alfie Allen (Game of Thrones' Theon Greyjoy and his sister wrote that song about him).
Seriously, if you are a fan of action flicks John Wick is a movie that needs to be seen. I am so excited for John Wick: Chapter 2 next year.
With all the stories that have been told over the years, it is hard to find a story or a way of telling said story that seems fresh and new. When I finally got to watch Birdman I was fearful that all the previous talk and hype, from not just the media but the chatter from friends, would somehow diminish the viewing of this film. I am glad to say, for me, it lived up to the expectations.
Birdman or The Unexpected Virtue of Ignorance is the story of an actor at the end of his celebrity path. He believes he had given up on his art long ago and sold out. Now, while in midst of losing touch with reality, he is making a last ditch effort to do something worth while to make himself famous again.
All aspects of this film come together – music, visuals, acting, style – to create an engrossing cinematic experience. Even before watching the film the cast alone was enough to sell me on this. Michael Keaton, Emma Stone, Edward Norton, Zach Galifianakis, Naomi Watts, an eclectic group of acclaimed actors put together in this very real, very intense world. It is presented as one continuous real time shot that is fast paced, hectic, without feeling rushed or that anything was missed. The characters are full, motives clear, and actions understood. Even the main character in all his instability makes sense; he isn't manic or psychotic he just isn't all right. And the vividness of the sets, the spaces they are in; filled with life and colours and lived-in-ness. Even the stage and how the audience is treated within the film as if they do not matter but yet they are the most important part.
Birdman or The Unexpected Virtue of Ignorance is how stories on film are meant to be told; clear, true, vivid. Nothing wasted, nothing over done, just compelling cinema.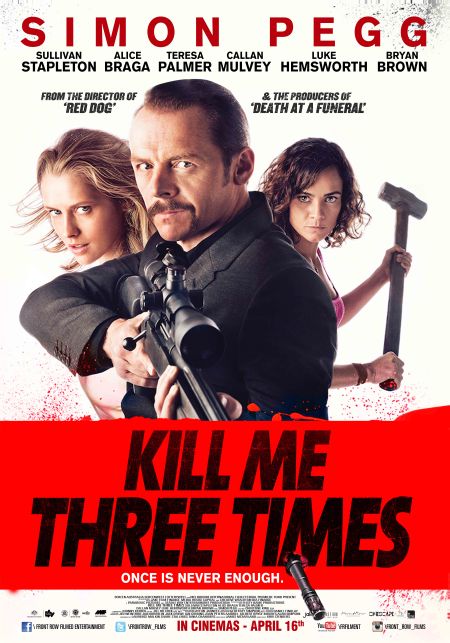 I think it is a bad sign when I can't remember much about this movie. I know Simon Pegg was in it and that girl from Warm Bodies, as you can see from the poster. There was something about a hired killer and a dentist and a car crash I think. And it was one of those complicated-for-the-sake-of-being-complicated movies, like a Guy Ritchie movie but no where near as cool. I must have been at least partially amused by the movie to have considered writing something about it. It couldn't have been that bad cuz then I would have remembered. So by deductive reasoning this was a relatively bland, forgettable film.
Even though Simon Pegg was probably amusing, I would skip Kill Me Three Times unless you get a bit curious.
Here is another of Pixar's attempts to make the world ugly cry, and succeeding. Its an example of why they deserve all the awards for what they do. They create cinematic experiences that perfectly straddles the line between kids cartoon and adult entertainment, with fantastic worlds and characters that are so anchored in reality that you feel and understand all of it. It makes you laugh and oh my god does it make you cry.
Inside Out is like a much better version of "Herman's Head" where the main character is a young girl and instead of aspects of her personality having an internal dialogue it is her emotions (Joy, Sadness, Anger, Fear, and Disgust) trying to keep her balanced. Throughout the movie the inner workings of the mind is revealed and brought forth in spectacular colour and vivid dialogue. The characters and environments are beautifully rendered bringing this world to life full of textures and movement while spot on voice acting made the characters seem real. So when there was loss, real or, sniff those are allergies, imaginary it hit you in the feels, hard.
Inside Out is a wonderful movie not just for kids but for adults too. It brings to light emotional issues that especially young kids can have and maybe help people understand one another. It really is beautifully done. Just have a hanky close by, you may get a little dust in your eye.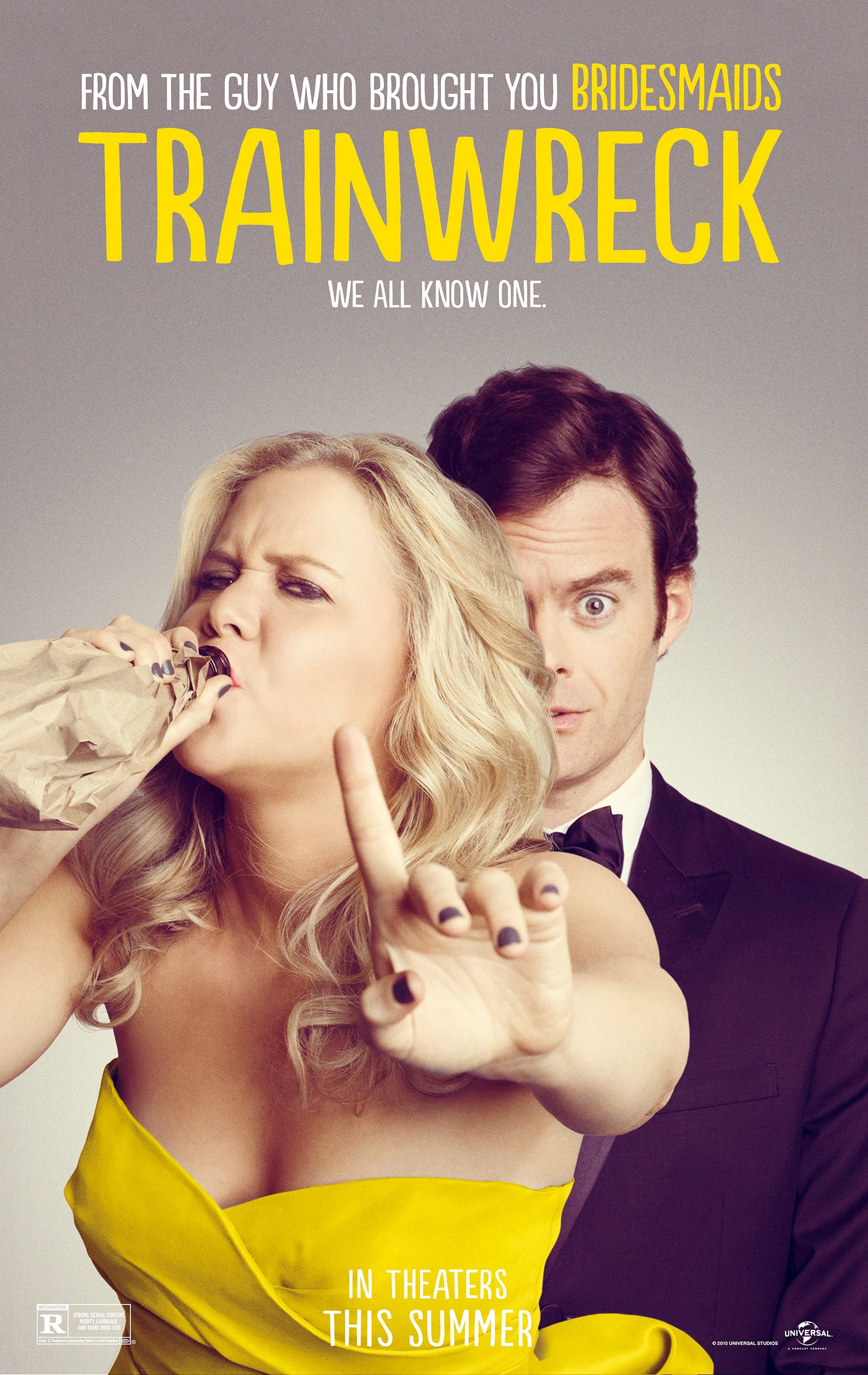 This was a good foray into film by Amy Schumer. She managed to accumulate the essence of her stand up and make it into a palatable film that awards some good laughs. It is a little sexy, vulgar, true, and funny. All elements that you look for in a good comedy.
Amy is a busy career woman doing her thing and living her life. She has never believed in monogamy but when she meets Aaron (Bill Hader), who turns out to be her Mr. Right, her views may have to change.
There is nothing spectacular about this movie but the story isn't bad and there is some good solid laughs in there. It is more of a traditional comedy unlike so much of the dark/dry humour in movies these days; mostly light but there has to be the character changing moments, so you feel good by the end of it. It also has a great cast. As I mentioned Bill Hader there is also Lebron James, Tilda Swinton, Brie Larson, and Colin Quinn. And tons of cameos including John Cena, Daniel Radcliffe, Marissa Tomei, Ezra Miller, Methodman, Tim Meadows, Tony Roma, Leslie Jones, and more.
Trainwreck is definitely worth a watch if you are looking for something fun.
Another addition to the MCU, Ant-Man was a bit different than the movies that came before. Instead of being an action flick with some comedy this was more of a comedy with some action. It was light and fun utilising some different storytelling techniques.
Scott Lang just got out of prison and is trying to go straight but things are a lot harder than he expected them to be. After losing his job he is talked into pulling a heist. It turns out this was a set up to recruit him for a special mission.
Even though the story is grand it is a lot smaller, pun intended, than previous MCU movies. Instead of being against armies, gods, or alien invasions, it is essentially man against man. Sure they are both wearing super suits that can shrink them to the size of bugs, which makes for some very cool Honey I Shrunk the Kids fight scenes and visual humour, it is still less fantastic, in the tradtional sense, than the movie that came before.
Its good not great. There is nothing wrong with it per se; the story is good, the acting is good, the effects are cool. Paul Rudd is charming as usual, Michael Douglas and Evangaline Lilly are good, Corey Stoll does a great job as the bad guy, and Michael Pena is hilarious. The movie does a mini Hank Pym as Ant-Man origin that fits perfectly into the story structure with out seeming long winded or unnecessary. And a couple of other heroes make an appearance. I can't really complain. But that little bit extra is missing. It may have something to do with the bombardment of superhero movies and the quality of films that came before. By comparison it is just okay. It is a good, non-rushed introduction to this new character.
Overall I liked Ant-Man so I am going to recommend that you give it watch. It is a fine addition to the MCU.
Tra