This week I actually had an inspiration for my nails. I did some research, did some shopping, and created a look I really like.
Piet Mondrain is a name that few people outside of the art field know but most people are quite familiar with his work; works blocked with thick black lines filled in with white, red, blue, and yellow. His work has graced walls, clothes, and even shoes.
His works may seem simple but are the culmination of the deconstruction of the nature around him. He broke things down to their base elements; direction (horizontal and vertical lines), shade (black and white), and colour (primary colours). These elements were arranged in a pleasing way representing his initial inspiration.
My nails were based on Mondrain's Composition II in Red, Blue, and Yellow (1930)
The final look is a little bit different (I didn't realize I put the blue in completely the wrong place til I was done) but you can definitely see the influence.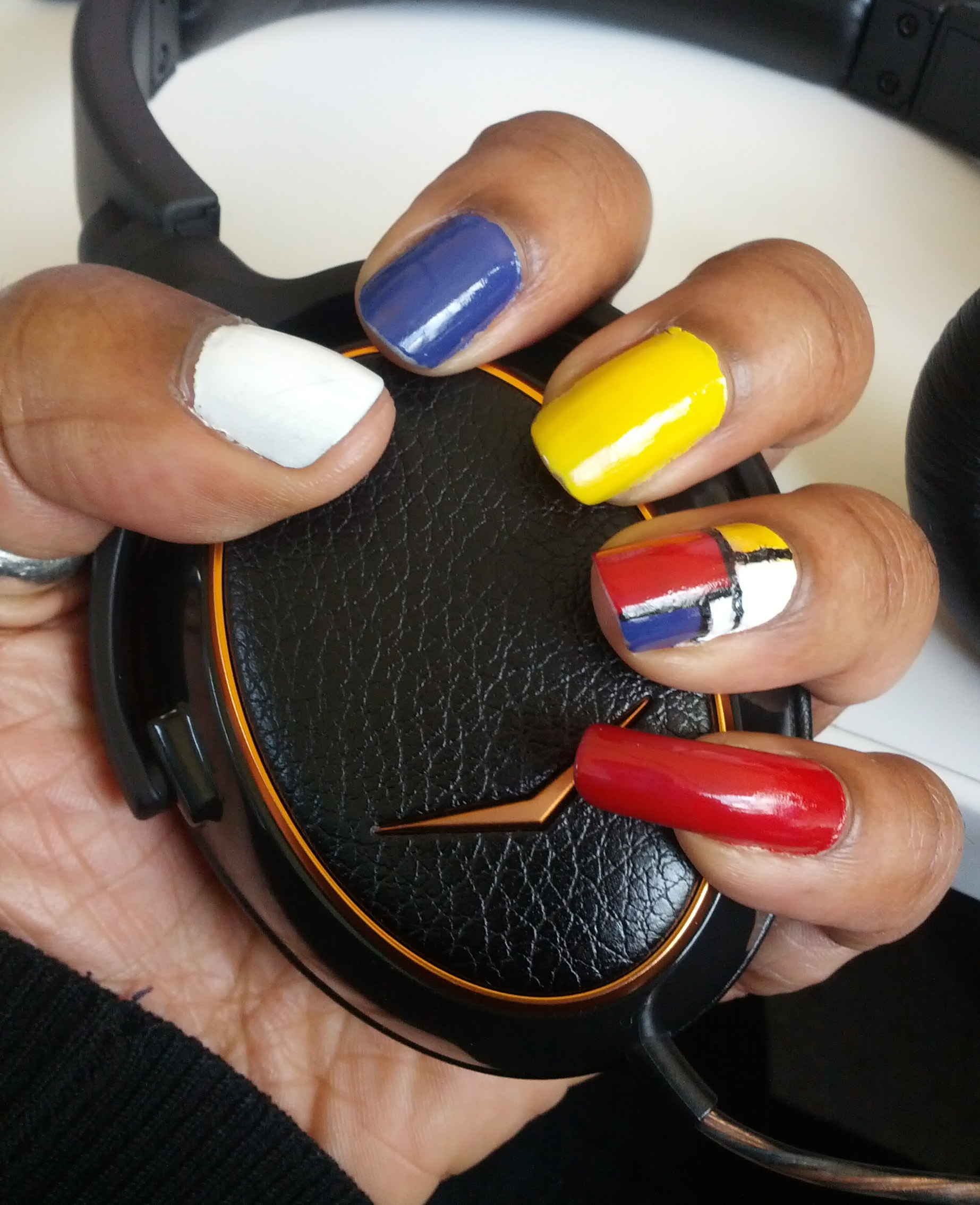 This week's item, grasped in my finely lacquered hand, is my Klipsch headphones. I used 6 polishes, all from different makers, to obtain this look.
Base/Top Coat: Essie all in one base
White: L'Oreal Steel Colour (910) "Seeing Spots"
Blue: M.A.C. Chen Man Collection "Breezy Blue" – this collection came out a few years ago and I paid collection price for it. I loved it when I bought it but I am kind of meh about it and don't use it that much so I was happy for the chance.
Yellow: Sephora X Neon "Obnoxious" – With all the polishes I have I had no yellow and it was surprisingly hard to find. Everything yellow is more a neon with that greenish tinge and that would not have worked. Even though this is part of the neon collection it is a really basic yellow which is what I was looking for.
Red: Rimmel Lasting Finish Pro 375 "Stiletto Red"
Black: Sally Hansen Nail Art Pen "Black"
Tra