The Oscars was on this weekend and I watched (almost) the whole thing. I mean preshow, the red carpet, and of course the ceremony, all of the watching. It wasn't all that spectacular. It was nice, sparkly, people were dressed well for the most part but nothing blew my mind. I actually miss the big theatrics they used to do. Sure it made the show 10 hours instead of 3 and a half but damn was it entertaining.
I did really enjoy the fact that they brought back the singing of the Best Original Songs. I really missed that last year and with Pharrell performing it brought a lot of fun. He got people up dancing! (I still hate that hat though)
And all the performances were really good. I also loved Pink's performance. Her rendition of 'Somewhere Over the Rainbow' was just wonderful. And that dress! She looked gorgeous.
And speaking of dresses here are a few of my fav looks for the night
Charlize Theron in Christian Dior – Pure Vamp!
Kate Hudson in Atelier Versace – Pure Glam!
Glenn Close in Zac Posen – I didn't see this on the red carpet but when she walked on stage to present an award I just loved it.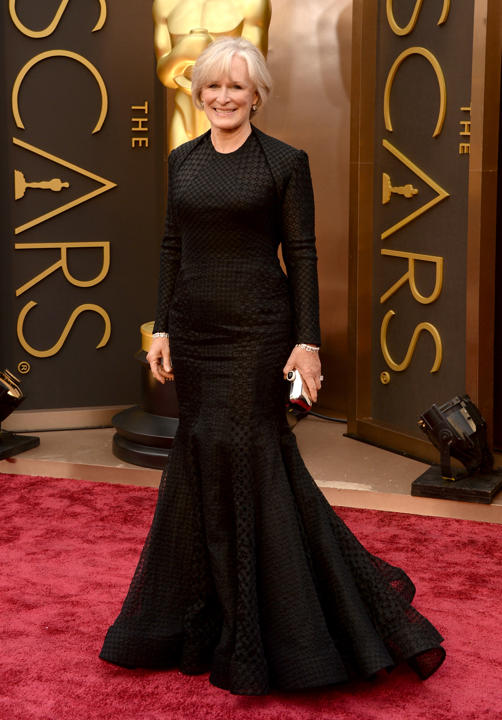 Kristen Bell in Roberto Cavalli – Simply Lovely!
Amy Adams in Gucci – Simple without being boring and it fits her like a glove.
Outfits I wanted to like but it didn't quite do it for me
Cate Blanchett in Armani Prive – These neutral tone of the dress just washed her out. I get why she picked it though it is lovely in theory.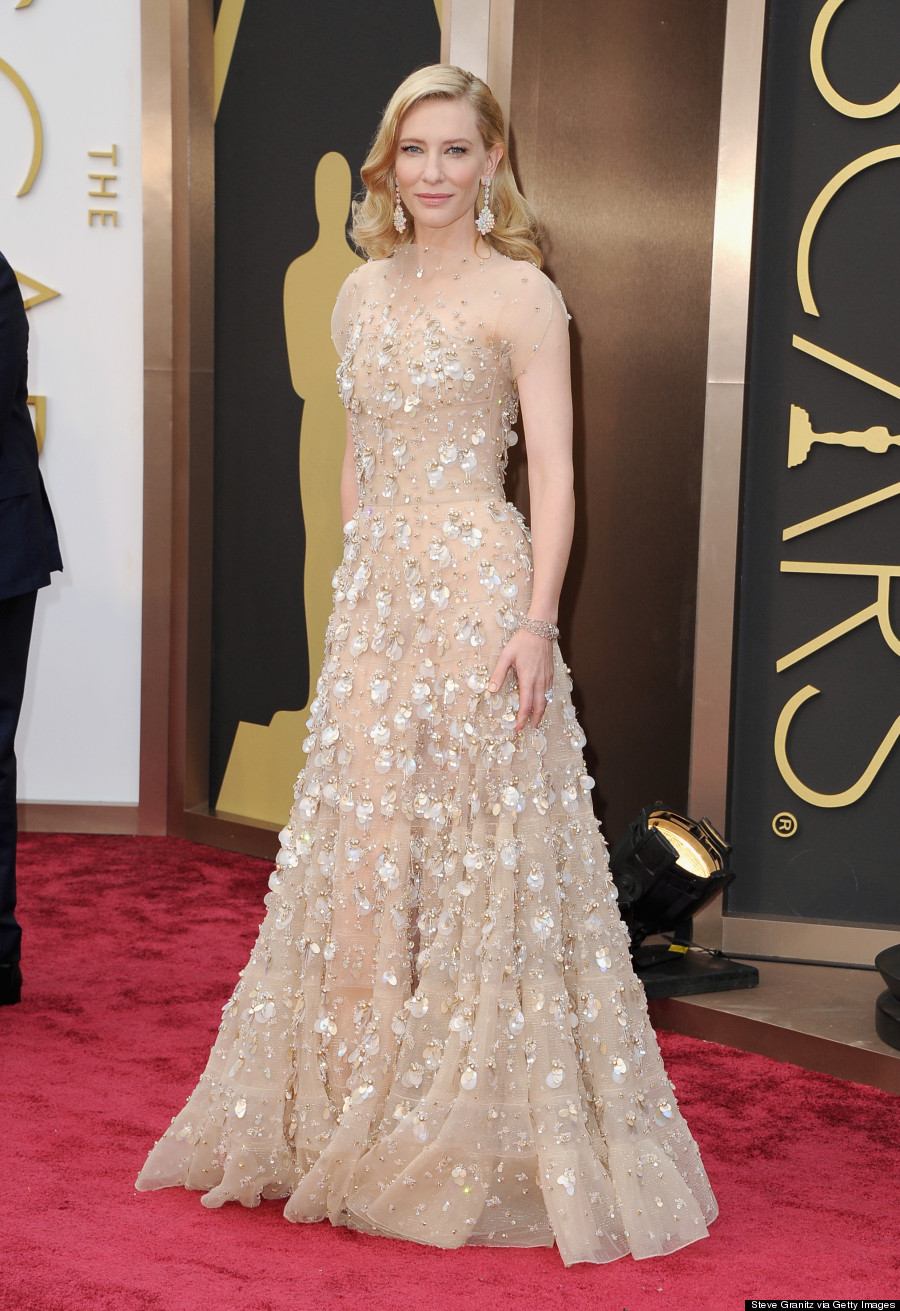 Anna Kendrick in J Mendel – That mesh waistband just killed it, cheapened it.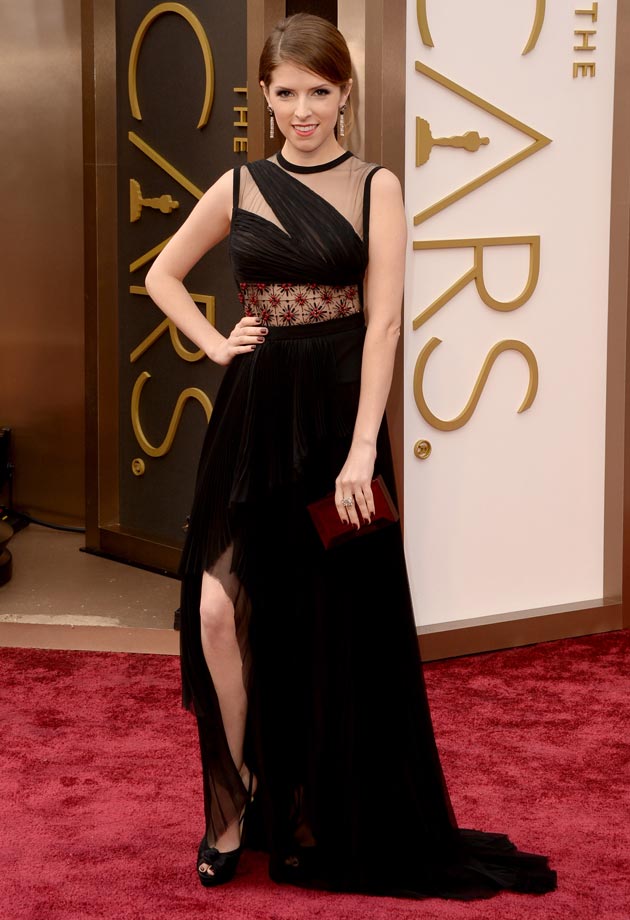 Lupita Nyong'o in Prada – It is a lovely colour, the skirt is fabulous, but the top just didn't work. It just needed a little filling out or even a necklace would have worked just to add that little bit extra. I loved her styling though. The headband, earings, makeup all worked marvelously.
Pharrell Williams in Lanvin – When he stopped to talk on the red carpet I only saw him waist up. He looked great! And then they panned down. What the shit? It is totally Pharrell but at the same time, ugh, would it kill you to dress (all of your body) like an adult? The thing is it is not the shorts that is killing me it is the shoes. Those shoes are just hideous.
What the….?
Whoopi Goldberg – Care just a little. I mean c'mon!
On to the actual awards. I can't say that much about them because I did not see many of the nominees. In the best picture category I only saw American Hustle, Gravity, Her, and The Wolf of Wall Street (that morning).
I am glad that Gravity only won the technical awards because it deserved them but there wasn't really much to the overall film. I am still on the fence about that Best Director win though.
So, so happy that Her won Best Original Screenplay. It is a wonderful film that deserved the recognition. It is the type of movie that could have been really bad but it came across as heartfelt and simply lovely.
I wasn't impressed with American Hustle. It was fine, but there was nothing spectacular or new. I'm still not sure why people made such a big deal about it.
I feel so bad for Leo DiCaprio. He deserves an Oscar and I still can't believe he hasn't won one yet. He was amazing in The Wolf of Wall Street but I can't say anything about Dallas Buyers Club cuz I haven't gotten around to it yet.
I haven't been able to bring myself to watch 12 Years a Slave but the clip they showed when Lupita won was just, fantastic. And her acceptance speech as so eloquent, touching, that I may force myself into watching it sooner rather than later.
Cate Blanchett's performance in Blue Jasmine was phenomenal she really deserved her win. She just goes through the full spectrum of emotion in her manic state. It is believable and it is sad.
The only film in the Best Animated Feature category I saw was Frozen. That is so sad. I really wanted to see Despicable Me 2 but I just never got around to it. I liked Frozen but it didn't blow me away, I don't think it should have won. It was, as many films are, beautiful to look at. The colours, textures, particle effects, simply grand. I have to say though my favourite song in the movie wasn't "Let it Go" it was "Do You Want to Build a Snowman". It was just so sweet, heartfelt, earnest that I just loved it. I do understand why that song wasn't pushed though as it only works in the context of the film outside of that it wouldn't make much sense.
Of the other categories I guess I agree with the winners. I didn't see any of the Short Films, Documentaries, or Foreign Films, I didn't see 12 Years a Slave or Dallas Buyers Club so I can't even comment. But this was one of the few years where I wasn't really shocked by any out come and don't believe anyone was really robbed. And that's a good thing.
Tra