It is incredible how quickly the warm days pass. The heat, the sun, the extra vitamin D that makes everyone just a little bit happier. Street festivals, parades, concerts! Toronto becomes even more amazing when the weather just cooperates.
We had a hot summer this year and I refused to complain about it. Sure I have no air conditioning and I would be perpetually sweating but it is still better than the dank cold winter months that are about to hit us. I made a conscious decision to pick a season to complain about and I think I chose wisely about winter which allowed me to enjoy my summer even more.
I did a lot of stuff this summer. Seriously, just tons of stuff and I am trying to think of the best was to organize and post everything. Maybe chronological order is best. Based on the last post I will start with the Toronto Jazz Festival.
One of my friends lives in the Beaches (The Beach is stupid and I won't use it) right by Kew Gardens, a beautiful park with picnic benches, baseball diamonds, and tennis courts that backs up onto the waterfront. He decided to have a BBQ/potluck. I made my way down there with homemade buttermilk fried chicken nuggets and potato salad.
Everything was great that day. The weather was majestic, warm sun with a cool breeze, the company, fun and entertaining, and the food was just amazing. We ate and became very merry (if you know what I mean) in the park. The sun started to set and we could hear the music of the festival pick up and we decided to wonder down to the festival and enjoy some of the music.
The street was pack with people, the smell of food, and the sound of live music. The group walked, chatted, and stopped periodically at particularly good bands.
After the festivities were over a friend, who lives close to me, talked me into walking home. That was one of the dumbest things I have ever done. It is about 8km, it was already about 1 am, and so it took about 1.5-2 hours to walk. I guess I just worked off all the food and booze I consumed that day.
We made it to Queen St E and River. The bridge looked much brighter and cooler than I could remember. I had to stop and take a few pics.
On the west end of the bridge there is a quote from Greek philosopher Heracleitus, "This river I step in is not the river I stand in." I have always know that there was something written there but I don't think I ever read it before. It is a good quote.
The walk home continued. I obviously made it and I had a wonderfully deep sleep.
The next day my brother was taking me to a lovely french restaurant for my birthday. Sure it was a week late, I'm a very busy lady, and my whole body ached, but I wouldn't miss it.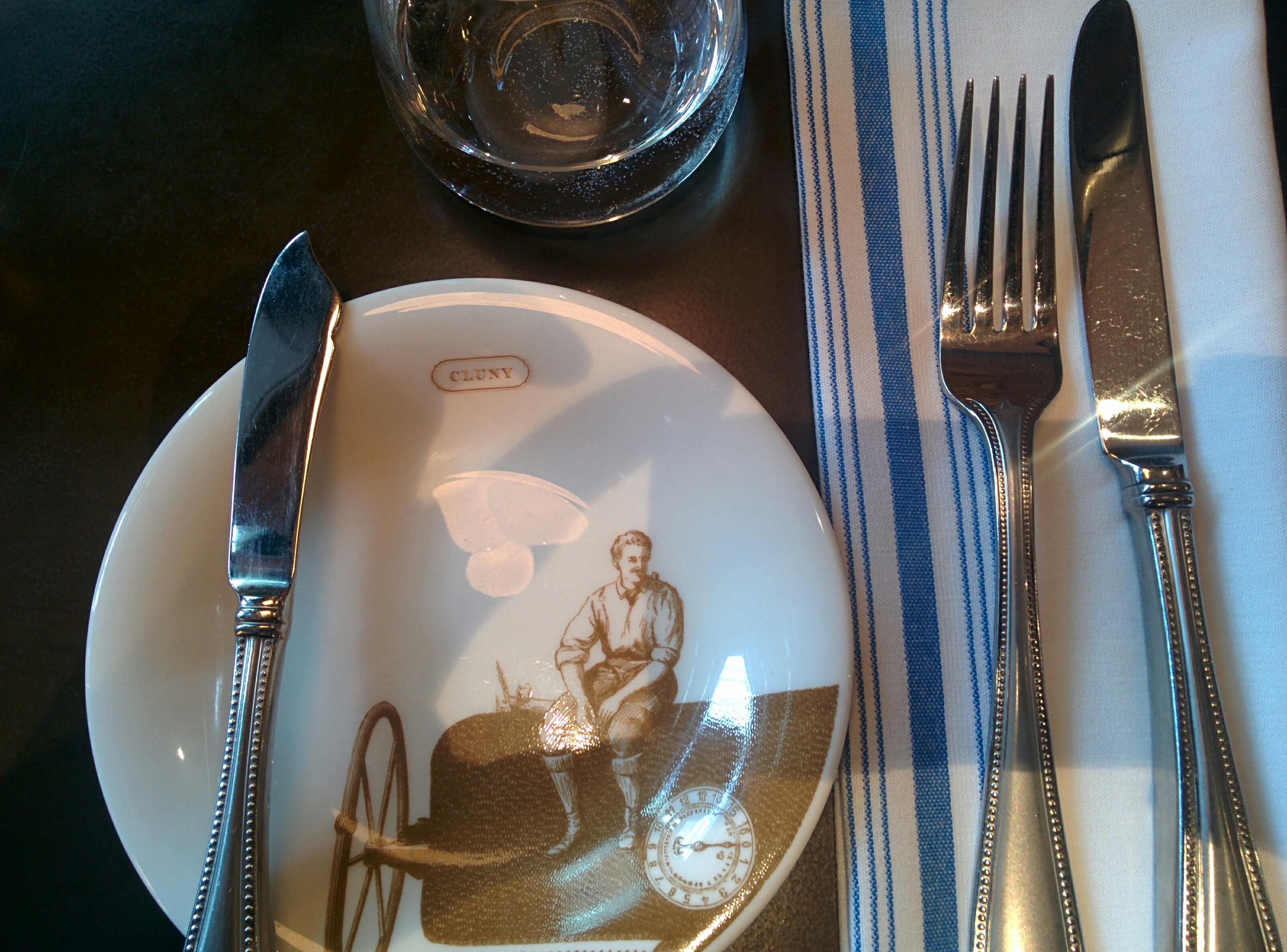 We ended up there because when he asked my where I wanted to go, I just had no idea. I did mention that I have never had french food (pastries don't count). So he took me to The Cluny Bistro in the Distillery district. It is an absolutely lovely restaurant with an elegant airy atmosphere and wonderful knowledgeable staff.
I did a lot of staring at the menu as I didn't know what flavours to expect and a lot of the descriptions did not appeal to my sensibilities. As I sat staring I did consume several pieces of fresh warm bread that they brought to the table. They apparently bake all their breads and pastries on site and these had just come out of the oven. There were (if i remember correctly) 3 types of bread. A crusty baguette, a fluffy seasoned bread, and a sour dough bread. They were delicious.
When I finally decided we ordered and began to chow down.
Starter – GINGER-CHILI FRIED FROG'S LEGS -Â Pickled celery, ginger-chili sauce – I had never had frogs legs before but my brother had developed a love for them on his trip to France last year. He insisted that I try them and I, without hesitation obliged. I did not like them. The seasoning and sauce were very nice but the actual taste of the meat did not work for me. It was like a fishy chicken which to me was a very off-putting flavour. He was kinda happy I didn't like it cuz it meant more for him.
Main – BRAISED LAMB SHOULDER -Â Apricot, tomato, green olive, preserved lemon, chermoula – This was not what I had expected and I wasn't too impressed by it. The food was fresh and well seasoned but I found the flavours bland and the lamb fatty. I mean it was fine but I was unimpressed by it.
Dessert – VANILLA BUTTERMILK PUDDING - Peach tea crémeux, apricot compote – This was served in a small fishbowl with dollops of cream and fruit and caramel. The flavours mixed well in this rich creamy dessert and that was by far the best part of the meal. This is something I really should have taken a picture of as it looked like art when it arrived at the table.
I voiced my overall malaise about the meal and I was informed that that was just what French food was. Sad to say, I don't think the food was bad, but I don't like French food. I may give it another chance in the future but right now I'm good.
to be continued…
Tra