As the summer continued in the midst of jobless melancholy and creative bursts, I enjoyed afternoons out where I wondered the streets and met friends for lunch.
The city was in a PanAm games frenzy as the streets were often filled with people and the city did its best to accomidate and entertain all these new people.
On one of these days I headed down to Harbourfront to meet former co-workers (current friends) for lunch alfresco. I was surprised to see a massive balloon tent had been erected in the open space.

It was called the Ontario Celebration Zone. The tent housed a stage, bar, and some seating, that people wondered through. Nothing was actually going on in the space that day and it seemed to just confuse many. Â There was an open space and then another, much smaller, balloon shelter that had seating. Above it all was a zip line. It went from one end of the tent to the next, water to the street. You would periodically hear the sound of people whizzing by and their screams/hollering that accompanied the excitement of the whole experience.
I met up with my friends and enjoyed the food, view, and company. We sat facing Toronto Island. The water that separated us was calm, the sky blue, the clouds few and far between.
The time with them was short as they had to return to being a functioning part of society. I luckily got to spend more time in the city, soaking in the sunshine.
To make sure I got out at least once a week and got some excercise I continued to play softball with the team from work. I had done all the work to set everything up and got a team together after all, so why not enjoy this company funded activity? Plus the views at some of these fields were just awesome.
How can one say no to that? Or this….
One does not.
I walked to and from many of the games affording me the chance to capture some beautiful images of the sun setting. The sky has been truly spectacular this year.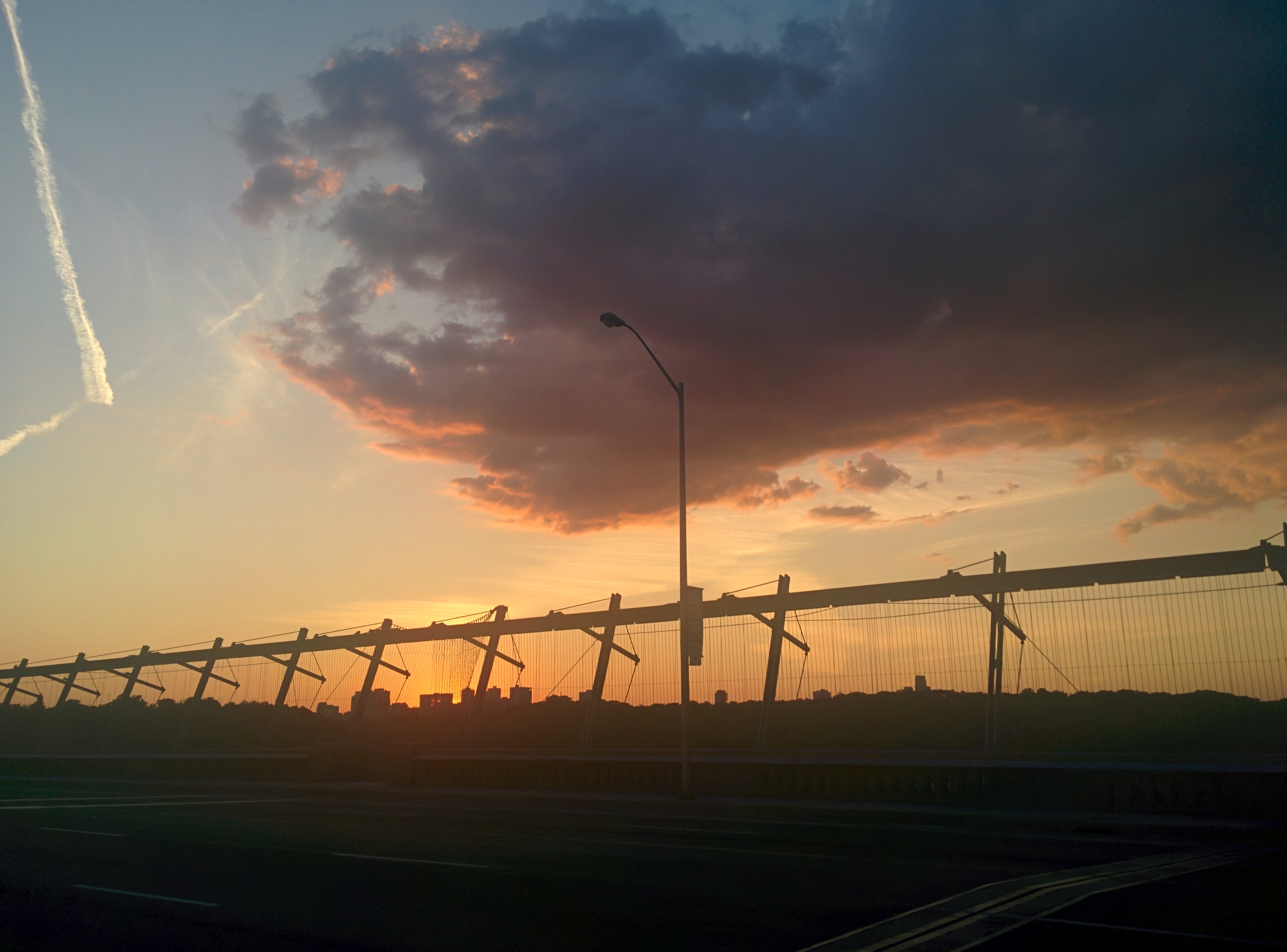 These are complete unedited, filter free pics. Look at the colours!
Caribana came along. A time when the city is supposed to be filled with music and colour. I don't go to many of the month long festivities but I try my best to make it out to the parade. I will admit that I have failed at that task the last few years but this year I decided I would head out even though I couldn't talk anyone to go with me. It would be a great oportunity to hear some good music and use my camera.
I got on the subway, piled onto a bus, and started the walk up Lakeshore. Besides the buzz of fellow patrons the area seem oddly quiet. There was no music being played, no commotion, no frenzy. I just assumed we were a little too far down the street. After walking about 20 minutes nothing had changed. There were more barriers up to keep people off the street, we did pass a couple of spots where people were taking breaks while listening to their music breaking the silence, but there was no signage, I had yet to see a trailer, see masqueraders, hear blasting music, or any of the parade.
I walked about 10 more minutes and I finally heard some pan. Yes! Success! I had made it to were the action was. Prepped the cam and kept moving. There was a single trailer and they were playing some great music. They played 2 songs and then stopped. I think it was just the end of the line for them. I saw nothing else in the near distance. So I continued to follow the crowd that seemed to be aimlessly moving forward.
The crowd got thicker. There were tents set up selling food, clothes, and music. There was more happening on the side than there was on the street where the parade was supposed to be happening. I weaved my way through people and vendors trying to find where all the exciting stuff was supposed to be happening.
I reached the Exhibition stadium. There was a sudden crush of people. They were all trying to get across these 2 small openings in the fence where police were directing people. Apparently you had to pay to get into the stadium to see anything. What. The. Hell!
Suddenly I could no longer stand being in the crowd and any will I had left me prompting me to turn around. I was so disappointed in the day. The only costumes I saw were of people going home from the parade. Sweating, costumes in shambles, looking wrecked.
I had spent 2 hours just getting to that point for not. At least I didn't have to walk as far back to get on a bus. The shuttle buses to go back to the station were much closer than the drop off point. I did have to go over a bridge to get there and instead of using my fabulous camera (it was just not worth the effort) I snapped a few pics with my phone.

See what I mean. A lot of people, 1 pan trailer, and a whole bunch of nothing. I dubbed it Cari-blah-na. The parade used to be the highlight of all the festivities and it has been ruined by over regulation, greed, and disputes.
to be continued…
Tra