It is incredible what happens when the sun comes out; people smile easier, your mood changes, and things just seem better. it is truly a miraculous thing. I say this simply because I am sitting at my desk staring at a blue sky with the warmth of the sun kissing my cheek. I just came back in from a walk and even though it is not what I would call "warm" but the slight improvement in temperature coupled with the lack of rain and clouds seems to have made people simply happier. I got a lot of smiles, "hi"s, and "hello"s, while I was out. When it is cold people are in miserable moods and they barely acknowledge your existence. This has made me really excited for the up coming warmth of summer.
I am writing on a Sunday afternoon as it seems almost impossible to write at any other time during the week these days. My days at work have been very busy and my evenings have been equally as hectic. Even though I sometimes find the task of writing about my goings on to be a daunting endeavor I do miss it when I haven't written for a while. So here I am typing away on this glorious day. But where to start?
I went to Medieval Times for my friends birthday. Well technically it was for 2 friends' birthdays. Their birthdays are a week apart and they wanted to just do something fun and a bit different. I was very fine with their choice.
If you don't know, you are treated to a medieval tournament with gallantry, jousting, and even dressage while you eat a 3 course meal. You get served by wenches and are encouraged to cheer as loud as possible. And something else that helps is that you get to drink from a bar like this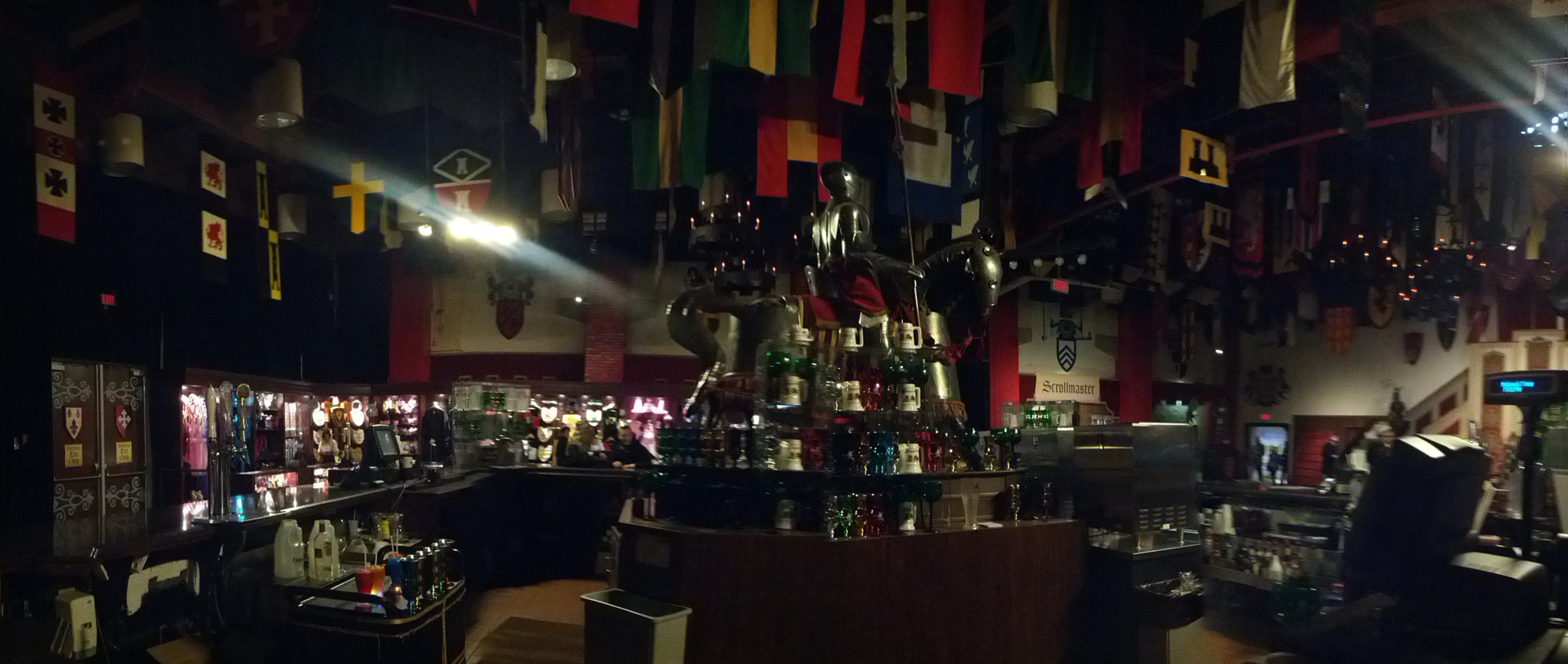 Yeah, it was pretty sweet. Although our Blue Knight did not win the tournament I was one of the lucky few to be given a carnation by our courageous sir before he was "slaughtered" for our entertainment.
Another night I was invited out to SPiN. As the sight says it is a "ping pong social club". That is really all you need to know. It is a bunch of ping pong table, loud music, people drinking and having a good time. I had never been before and I had tons of fun, that could be because I hadn't played ping pong in years but apparently I am pretty good.
Another place I went to for the first time was Snake and Lattes. It is a lounge/board game haven. You go in, get a table and picck a board game and play to your heart's content. The whole back wall of the place is filled with all kinds of game including classics like Monopoly and scrabble to new favourites like Carcassonne and Cards Against Humanity. That night we played Puerto Rico and Scrabble and drank a bit too much. It was good times.
I managed to get out to the movies as well and saw G.I. Joe: Retaliation.
You would think after the garbage that was G.I. Joe: The Rise of Cobra I would go anywhere near this but they did a hell of a job with their marketing campaign. I remember when I first heard about this I swore they would not get may money but the more I saw…I just couldn't help myself. But you know what? It wasn't bad. The level this movie is at it what I actually expected for the first one. It is fun, there are some great action sequences and fight scenes, its well put together, and not so ridiculous that you are just screaming "C'MON!" at the screen all the time. The acting is what you'd expect from something like this but it works. Yes it is far from being the best action click ever but it is worth checking out but skip the 3D.
I know this movie isn't new but I finally got around to watching Life of Pi just so people would get off my back about it.
I had absolutely no interest in seeing this movie. It stems from my time working in a bookstore. At first when the book "Life of Pi" was released no one really paid that much attention to it but then it blew up. I couldn't turn around without someone telling me how amazing the book was or how I have to read it and that completely turned me off.
Last year when the movie was released it received rave reviews and won the best picture Oscar. But I still had no interest in seeing the movie and pretty much ignored it. Friends of mine were flabbergasted at the fact that I had no interest in seeing this film in the same way people were surprised that I didn't want to read the book. I simply had no interest in it and no amount of CG or pretty colours would change my mind. But apparently boredom is a cure for that.
I liked this movie a lot more than I ever expected; I really thought it to be somewhat trite and long winded but I am really glad to say that it wasn't. The core of the film is about a young man named Pi has to survive on a life boat with a Bengal tiger but, to me, that is not what should have been focused on. The first "chapter" of the film when you are introduced to Piscine Patel, this interesting and curious young man, is more interesting than the core of the film. He is such a captivating character and the world around him so wondrous that I wanted to see more of that; to hear more of is uncle with the large torso and tiny legs; his encounters with religion; his experience with love. But overall it is good and worth watching, it is simply interesting.
Let's talk about music. I picked up the new Justin Timberlake album "The 20/20 Experience" and it is good, like really, really good.
I am not ashamed to say I am a fan of the guy. He is hella talented and deserves all the praise that he gets. Did you see JT week on Jimmy Fallon? Totally blew me away. The album itself is filled with great songs that have a Motown vibe, to some R&B bump and grind, to an experimental atmospheric tune, all mixed in with great dance-able beats. If I had to pick one word to describe it, it would be "sexy". It is a sexy album.
The songs that have been released, Pusher Love Girl, Suit & Tie (this song makes me smile every time I hear it) and Mirrors, are the perfect examples to the vibe of the overall album. Besides the released songs a couple of my faves include
Audio clip: Adobe Flash Player (version 9 or above) is required to play this audio clip. Download the latest version here. You also need to have JavaScript enabled in your browser.
Audio clip: Adobe Flash Player (version 9 or above) is required to play this audio clip. Download the latest version here. You also need to have JavaScript enabled in your browser.
So good. It was really hard to pick just 2 songs.
Anyways, I have been so busy that I only did my nails once in the last 3 week. I know it is a horrible state of being. But this week I grabbed a bunch of bright colours and started slapping them on my fingers. I really didn't do a good just as I didn't take my time at all but you get what I was going for, bright and fun.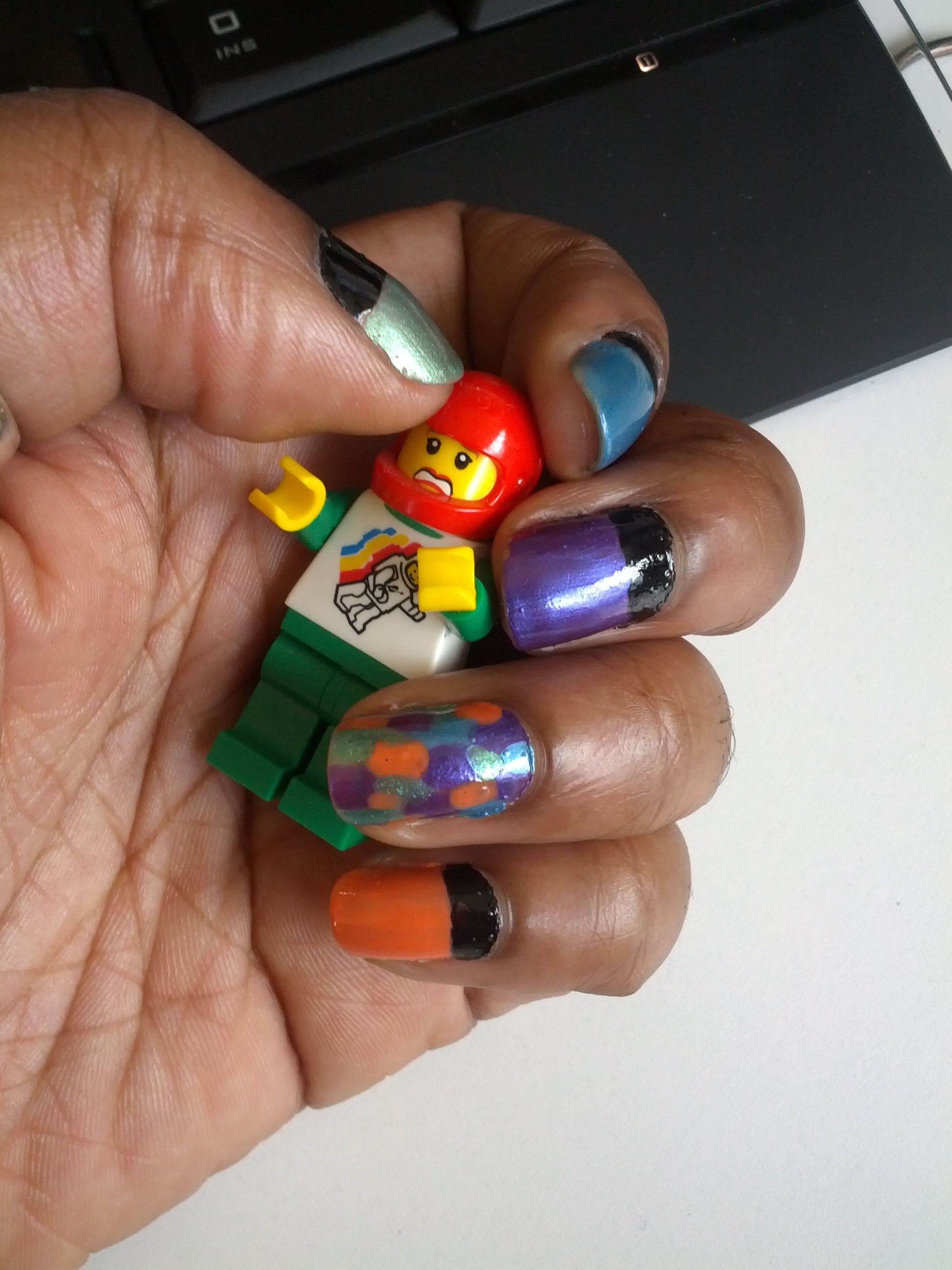 This week's item is what looks like a terrified Lego man. Probably wondering what this giant is doing. Don't fret Lego man you will not feel my wrath for you have not earned it!
This week I used 6 polishes 4 of which are NYC colours and sadly they don't have funky names just numbers.
NYC 118A – Green
NYC 112A – Orange
NYC 204A – Blue
NYC 133A – Purple
Rimmel Lasting finish Pro (430) – Black Satin
Rimmel Lasting finish Pro Base
Ok so I think I have caught you up. I know that was a lot.
Tra