Ok so I made a boo-boo last week. It was a busy week as usual (in recent times at least) and I did forget to post my nails. I thought I would do it on the weekend but … yeah, as you know that didn't happen. I remembered just as I finished cleaning off my last nail to start beautifying them again. So here are the colours I used at least but you will have to use you imagination to totally get it.
Base Coat – Recently (I think it is because of the change in weather) my nails have been cracking and splitting and that doesn't look pretty no matter how you try and cover it. So  I used is LA Girl NT13 Nail Strengthener to help my nails. I have used it twice and it has already made a big difference.
Main Colour – M.A.C. "Endless Night" – it is a neutral colour with a slight pearlescence/glittery finish
Accent – Rimmel 430 "Black Satin" and on top of that the Zoya ZP583 "Opal" – a flakie holographic top coat.
It was a really great look, sorry you missed it.
This week I worked with a theme that goes back to my crazy long post from last week. At the end of that post I raved about the new Justin Timberlake album and I got my inspiration from its first hit.
You see those bow-ties? As you can see I was inspired by the song "Suite & Tie" the reason there are 2 is one is for JT the other Jay-Z but I am not sure which one is which. I don't have to explain the object this week.
Base coat – LA Girl NT13 Nail Strengthener
Main – M.A.C. "Seriously Hip" – I don't know if you can tell but this colour is black with tiny gold flecks. It is a gorgeous colour but I don't think this pic does it justice, sorry.
Accent Nails – L'Oreal Steel Colour 910 "Seeing Spots" (white), Rimmel 430 "Black Satin", Rimmel 375 "Stiletto Red"
Lastly, because the weather is finally warming up and I got to wear sandals today I thought I should share how my toes look. They have nails too so it totally counts.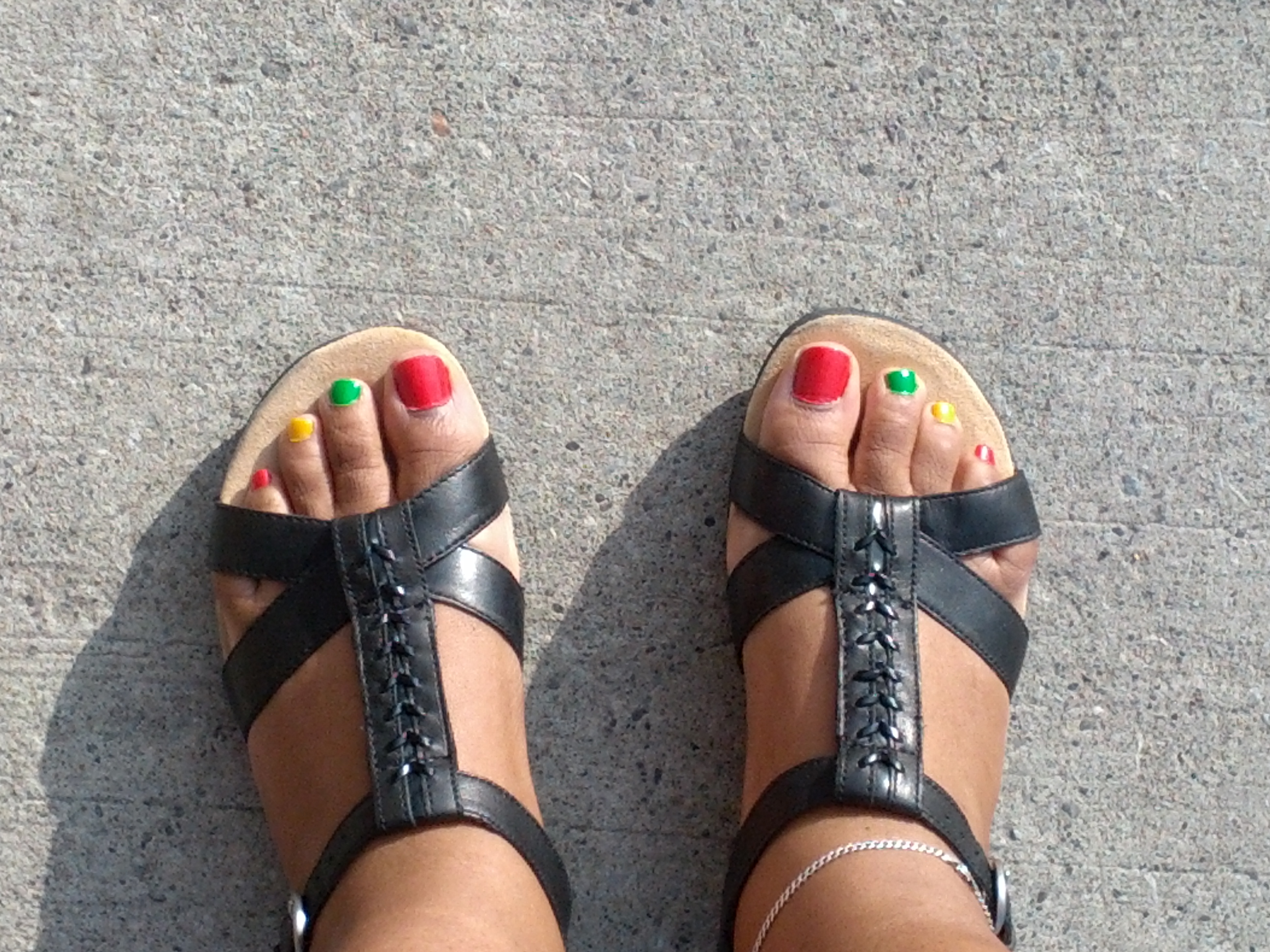 It's nothing fancy but I think the use of colour makes it lots of fun. I used all LA Girl colours and before I tell you what they are I just want to say I know the company name sounds cheap but it is really good nail polish. I only say this because I was asked what polish I used and the person made a face when I said the name. I have to admit when I first tried the brand I didn't think it was going to be that good.
Anyways, I digress, on to the colours.
Base Coat – Even on toes it is a necessity, NT13 Nail Strengthener
Red-ish – Disco Brites NL82 "Disco Inferno"
Yellow – Yes I bought a new yellow, Disco Brites NL72 "Psychedelic"
Side note: Apparently those two colours above are both black light polishes but I haven't tested that out.
Green – Brites GNL469 "Kryptonite"
That's it.
Tra